Hello All,
Welcome to my interview with Michael R. Hagan, author of the paranormal thriller DEMIURGE,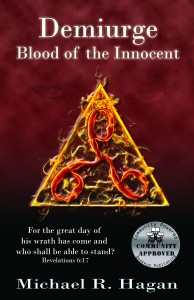 Blood of the Innocent, published by Bookkus Publishing.  Just for full disclosure, I've know Mike for a few years, since meeting him on Book Country, the writer's web site.  We've posted comments, along with many others, helping each other with our writing.  I can truly say that I take pride in just being able to say I helped Mike a small bit because his finished product is such a great read.
That being said, I interviewed Mike by e-mail over the space of a few weeks in the hope of coming up with something more spontaneous than the standard 'here's a bunch of questions – answer them' format.  You can tell me if it worked.  Anyway, I hope you enjoy reading this as much as I did conducting the interview.
First, I asked Mike to send a brief bio to get things started: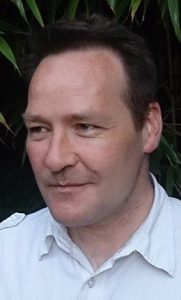 [[Biography – Having lived in Temecula, CA, and Belfast, Northern Ireland, where he was born in 1970, Michael R. Hagan now resides with his family of four in the idyllic town of Dromore, Co. Down, a short distance from its impressive Norman Mound…and a shorter distance from the home of the town's famed home-made ice-cream.
Prior to writing DEMIURGE: Blood of the Innocent, his first novel, Michael worked in a number of different sectors varying from a stint in the Territorials, within FMCG, supplying construction equipment, property development and selling Ferraris. Hagan explains, "The common thread is, they all involved meeting interesting people. I love to hear real stories from real people; what makes someone laugh, maddens them… What journey has brought them to be who they are today. If you see me on the street, say hello…share a story. If we're near a good coffee house, all the better."
Possessing a long-suppressed passion for literature and fascination with history; he now reflects on how more beautifully romantic than the life of a hungry business person, is the concept of a starving artist.]]
Now folks, here's my interview with Mike:
DocTom:  Welcome, Mike. Let me start by saying the detail in your opening note about the Demiurge Myth, coupled with the rich historical detail that pops up throughout the book leads to an obvious first question.  Are you a trained theologian, archaeologist, or historian?
Mike Hagan: Yes. All of the above!
……………..Um.  Well, actually no. This is the beauty of the modern age and must be the envy of authors and researchers from years gone by.
A great example is what was initially page 1 (My two main protagonists vied for the top spot for some time before Hassom won that battle.) The opening scene was to be McKenzie opening the flap on his tent to be met with the dawn view from his archaeological site in the Zagros Mountains North of Hamedan. Then I realized I had no idea what time dawn was North of Hamedan in the Zagros range…or the temperature, terrain, vegetation. Of course, this was to be dependant on the month and altitude.
BRING ON THE INTERNET… It's not just for sharing pictures of cats and arguing with strangers: Who knew?
Each and every one of us now has knowledge and resources at our fingertips infinitely more extensive than were we present in the ancient Library of Alexandria or any centre of learning constructed since.
Frankly with the wealth of history from the empires utilized as backdrop for 'Demiurge;' without the web, I'd still be doing the research, and never yet have put ink to page.
DocTom:  Wow!  Well, you sure had me fooled.  But if all this came after the fact from the internet, how'd you come up with the initial concept of Demiurge?
Mike Hagan: Oh, sorry. Don't get me wrong… I love history; always have. I'm obsessed with the 'Sliding Doors' or 'Butterfly Effect' type of pivotal points where the entire future of a civilization (our past) has been redirected by one, quite possibly unremarkable seeming, decision, accident or action. The flesh and blood of accurate detail required extensive research, but I had a very clear skeleton of the story I wanted to tell from the outset.
The reason I was so fascinated with the concept of The Demiurge, was that it not only was a consistent belief in a multitude of religions and myths, but (and this is where it gets complicated) the very inconsistencies and contradicting viewpoints regarding the perception of the Demiurge were in themselves consistent throughout the varying faiths and legends. This is rare, and seductive…creatively speaking.
DocTom: So you started with an idea from a basic interest in history and ran with it.
As insight for potential writers out there, despite having a love of history, how much time did you need to spend in research once you decided to write Demiurge?  I only ask because I've read a lot of manuscripts where authors take short cuts and simply try to make up history, etc., as they go along, the result usually reading like a grade C- movie script.
Mike Hagan:  For fear of one day lying on my deathbed, wondering what I did with my life, I didn't keep track of the hours…months spent researching details for the book. I had a basic knowledge of many prophecies made and actions taken to prevent (or in many cases accidentally bringing about) their fruition, but there are often differing interpretations of the initial prophecies and I'd to tread a careful path which allowed for each possibility to be dealt with by ensuing events.
The devil (or Demiurge) truly is in the detail.
But hey, now I know you can do so, I'll definitely settle for a grade C- movie script in the next book and take every single one of these short-cuts: Sounds like a much easier, faster and more painless way to write.
DocTom: Well, Mike, if you want to see what Demiurge might have looked like as a C-, I'd suggest you watch The Mole People, a John Agar movie from the 50's.
I also wanted to ask you about the story background in Great Britain.  I know you were in process of writing the book a few years ago, but the politics involved look like they came from a recent news feed. Have you got a crystal ball?
Mike Hagan: 'The Mole People.' Got it… I love terrible movies with friends, so I'll watch this on your recommendation.
Regarding the politics… A lucky guess, might better describe it.
Everything has a knock on affect. When writing the book, the Middle East was in turmoil, China was making aggressive financial inroads into Africa, and both China and India were knocking on America's door regarding which economy would be the largest in the decades to follow. Mass immigration and an escalation of worldwide xenophobia were respectively likely to follow suit. Of course, the book takes the next step: a resurgence of imperialism, with countries suspiciously wary of each other's intent and the coveting of empires… A tinderbox ripe for manipulation.
There's time yet!
DocTom: I'll give you a warning about The Mole People.  It starts off with a 'Professor' talking about the inner structure of the Earth.  He's identified as a Professor of English! I guess the Geology Department was closed that day.
But what about all the flooding, etc., going on?  That's not really happening in England, is it?
Mike Hagan: 'The Mole People.' You're only whetting my appetite more!
In recent years flooding has become a growing problem in the UK, particularly England. With the climate warming, pole ice melting and sea levels rising, island nations are likely to get their entire afternoon ruined…regularly.
Already swaths of the west coast of England are at the mercy of failing and unsustainably expensive flood defenses. No crystal ball needed here to see this as a problem which will only intensify in coming years.
Again, history can tell a tale. Across the world are ancient cities, lying abandoned, miles from the coast which nurtured them in their glory thousands of years ago. Climate changes are cyclic, and it's not such a stretch to imagine coasts returning in the future to former positions. There are copies of copies of ancient maps (in fairness their authenticity heatedly contested) showing the polar coasts accurately, presently hidden under kilometres of ice. Over 300,000,000 individuals live within 60 miles of existing coastlines… A tiny fraction of this is potential migration and lost resources enough to cause conflict around the globe like we have never seen. OK, maybe I'm getting a tad carried away…but what if not?
Maybe Karma will have the last laugh, and the poorest areas of earth, presently arid and barren will become prime real estate when coasts move inland and unfrozen water becomes so abundant as to be a burden to areas presently blessed with the right amount today.
Sorry, what was the question again.
DocTom:  I think you answered it.  I didn't realize things were that bad in the British Isles.  We do have the same potential here though.  When dear ol' W was President one of his staff argued the climate change wasn't a big deal because all it meant was climate zones shifting north.  So if the center of the US became a desert, the 'bread basket' of wheat and corn production would just have moved north.  I always ask my class if they think the guy realized that "north' is a different country? Just let the tanks roll!
I must admit though, I did love the way you tied all this together in Demiurge.
Let's move on to your characters.  In general – we'll discuss individuals in a bit – how did you go about creating them?  Are they modeled after people you know?
Mike Hagan:  No one character is modeled on any individual person, but certainly, traits the protagonists possess will be ones I have encountered in life. Hassom, particularly is an outwardly confident and super competent individual; racked with self-doubt. I think this is exceptionally common, but seldom visited in fiction…certainly for male characters, oddly enough.
I'm very reluctant to provide any spoilers, but in many instances throughout the book, those actually getting things done and contributing the most, are often the 'wallflowers' rather than those who may be perceived as the leaders or more charismatic characters. It may even be frustrating to some astute or empathic readers (I do hope so) that credit is seldom directly given where due in the book…as indeed in life.
DocTom: Talking about your characters, I must admit I found them all well done, but my favorite was D. I. Hassom, I found him to be the most compelling character in the book.  You describe him as "…outwardly confident and super competent individual; racked with self-doubt."  Can you explain that a bit more?  Elaborate on his back story?
Mike Hagan:  Why does James Bond never step in dog poo? (Rhetorical) Hassom is neither hero, nor anti-hero. To me he's a decent and flawed person (like most of us,) drawn into extraordinary circumstances. He makes mistakes… He's human.
Immersed in some violent situations early in the story, his history of (almost always) controlled aggression (and depression) is strongly implied, to set reader expectations this would be useful in dealing with the challenges set him. I can't divulge too much about what transpires, in the name of avoiding spoilers, but suffice to say he finds himself in circumstances where many of his aptitudes are redundant.
He's both calculated and intuitive (though the prefix for 'Demiurge' blurs the line between the two,) and often his opinions and thoughts are deeply conflicted (Isn't there just a little schizophrenia in all of us? If you doubt it, just try quitting any addiction, or dealing with guilt from having chosen the lesser of two evils in an important aspect of life.)… In this way, he shares some of the traits of the 'psychopaths' he is pitted against.
I like to think of him as someone who would have been instinctively optimistic and trusting, but for what life has thrown his way.
DocTom: Neat, but it is difficult to get much into discussing characters without giving too much away.  So tell me about the most important character for Demiurge – the author.  You.  Did you really sell Lamborginis? (Ah… you wouldn't happen to have a couple of display models hanging around that you could part with??)  How do you go from that to writing?
Mike Hagan:  Haha, yes, I sold Ferraris, Bentleys, Rolls Royce and Maserati… for my sins; along with many less exotic sounding lines, like greeting cards, naughty novelties, quarry equipment, engineering plant, fruit and veg, industrial chemicals, and football memorabilia… Lord, I feel ancient now… I can even use the old joke about being in lady's tights for some time.
I've always loved the escapism of getting lost in other's great books and stories, and went about writing my own at several stages of my life, though never totally committing to the task. When I lost my shirt in property development, escapism seemed even more attractive than ever, and that's when I chose to lose myself in mine. This time round, the characters truly assumed lives of their own, and, once started, it simply never was an option not to journey with them to the end.
As an individual I am very trusting of people, yet very mistrusting on almost every form of government (obviously made of people,) and this certainly influenced aspects of Demiurge. I believe uncompromisingly in personal freedom, with the sole caveat that those personal freedoms do not infringe on the personal freedoms of others. There are so many evils perpetrated by governments openly that it is difficult to imagine how to rectify the problems with the worst; but an example of where even the best systems fail their populace is the situation in the U.S.
In this free society, it is so openly accepted that almost everyone has smoked pot at some point in their lives, that if asked the question, 'Have you ever smoked pot?' any answer other than 'yes' is assumed to be a lie. This is true at every level of society, from the ground, right up to senators and presidents.
At the same time, tens of thousands of individuals (usually the less wealthy) are imprisoned EVERY YEAR, ruining lives and destroying future prospects, simply for smoking pot… And the largest lobbyists for not correcting the law which results in this are…the very private corporations who own the prison system, making billions of dollars from the incarceration of the unfortunate individuals who are caught doing what the majority of citizens have also done… Smoked pot.
Now, personally, I don't give a damn about pot; this is simply one topic to use to show the point… In a world where even the most open and fair system of government available tolerates and perpetuates such blatant injustice; what else might the ruling classes be capable of, when it comes to manipulating, bullying or suppressing individual freedoms…destroying lives on such a scale should it suit their agendas?
Demiurge offers one fictional scenario in answer; but genuinely, as may be the case here, sometimes fact genuinely can be stranger than fiction.
DocTom: Go on, tell me more about Mike Hagan.
Mike Hagan: In general life, the more inappropriate a statement might be, the more likely I am to make it. If the humor of a situation occurs to me, I can think of little else until it's been given voice and this is a terrible trait to have in business…or indeed at funerals. In writing, there's much more time for a self-screening process, so this was always going to appeal to me.
I've always been fascinated by 'What ifs.' Sometimes the entire course of history has been changed by the smallest of decisions…the butterfly effect in action, and I'm compelled to explore this theme in my writing.
I left school at an embarrassingly early age and have been working ever since. I really had no time or right to write a novel. The plot just came to me, all intricacies and twists following on uninvited, clawing at my brain and refusing to let go until put to paper. My ability to do the story justice had to follow on. Between first draft and finished product there was screaming, blood, sweat, tears, a return to schooling, screaming, critiques, reviews, mentoring, revising, did I mention screaming? You have the idea.
I have one of those addictive or obsessive personalities you hear about. I had no choice but to write DEMIURGE: Blood of the Innocent. Once the characters got into my head, they wouldn't let me sleep until I'd committed their story to paper. I firmly believe the alternative would have been being committed myself… Now they're at rest and I'm hooked on a good dozen cups of coffee a day.
DocTom: So where do you go from here, Mike?  Is there another adventure in the works for Hassom, McKenzie, et al?  Or are you off in a different direction?
Mike Hagan: No doubt, McKenzie, Hannah and the gang will embark on an epic journey and bully me into recording it again at some point, but my next book is unrelated:
Hell, Overseers, Demons raging and an awakening to the fact, the souls of man may not be as important to our counterparts as we have been led to believe. Don't hold your breath, though. You can have it fast or you can have it good.
DocTom: Sounds fascinating, Mike.  I hope it's not too long a wait (then again, better a long wait than "The Mole People"! ).
So any concluding thoughts?  Things you'd like to add?
Mike Hagan: Only to express my undying thanks to all who have picked up Demiurge and given it a crack of the whip, and especially to those who have given of their time to leave reviews. Anyone who wants to chat is always welcome on my facebook page… But not tonight; I'll be busy streaming 'The Mole People.' I bet, really, it's wonderful!
Thanks for having me, Tom.
DocTom: Thank you, Mike, and best wishes for lots of success with DEMIURGE.
To the readers – if you have any questions for Mike you can post them here and I'll pass them along, or you can go directly to his facebook page at Michael R. Hagan, or you can join That's Novel, a facebook page he started for those who love to read.
Also, you can read the first three chapters of Mike's book here, and my review of DEMIURGE here.
The book is available through Amazon, Bookkus Publishing and Barnes and Noble.  Enjoy!