In May of 2017 I got a chance to visit Uganda to visit my son Joshua who was working there as a Peace Corps volunteer.  We had a great time and thought I'd share some of the photos and a bit of the story.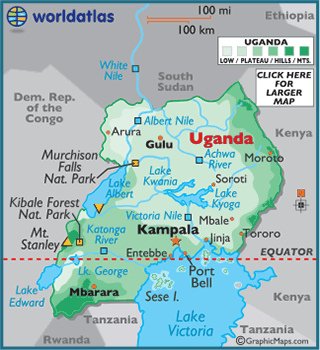 We spent a couple of days in Kampala, and with my son at his home in Mityana (just northwest of Kampala). Then took a tour of the country seeing some beautiful sites at Jinja (near the eastern border of Uganda about halfway between Tororo and Moroto on the map above), and at the incomparable Murchison Falls National Park).
I've separated this out into five posts so as not to bore anyone too much.  By the way, if you find any of the pictures interesting, just click on it to get a full screen image.
If you want to follow the rough order of the trip, you can start with Kampala and Mityana, then go to A Day at Sipi Falls, then Murchison Park Day 1 – The Falls and Camp, then Murchison park Safari – Part 1 Morning Safari, and finally Murchison Park Safari – Part 2 Safari Along the Nile.  Or, of course you can go in any order you wish.  If you like animals make sure to visit the safari posts.
Enjoy, I sure did!
DocTom