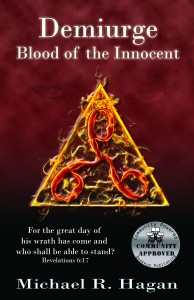 And I saw heaven opened and behold a white horse:
and he that sat on him was faithful and true.
Rev: 19.11
And I looked and behold a white horse: and his name that sat on him was death…
Rev: 6.8
…and Hades followed him.
And there was given unto them authority over the fourth part of the earth,
to kill with sword and with famine and with death,
and by the wild beasts of the earth.
DEMIURGE
Blood of the Innocent
Chapter 1
The dead awaited William Hassom.
He tested their patience a second longer, stealing a last draw on his cigarette before discarding the stub as he stepped from the car into the violent rain. He pulled his overcoat tight, shielding him from the worst of the downpour, but the cold rebounds splashing off the pavement soaked his trousers to the knee by the time he reached the cordoned off area.
Townhouses on each side of the street blinked at him, intermittently lit by flashing lights from a dozen emergency vehicles parked along the fashionable Victorian terraces. The tall architecture was neatly separated from the pavement by wrought iron railings. Gardens would be to the rear, he knew, partitioned with high hedges and walls so those within could be oblivious to the lives inside adjacent properties. A few ground and third floor windows added their light to the scene, their bunched curtains and tilted blinds betraying to Hassom the hidden onlookers.
He'd be surprised if any of those watching had ever engaged with the occupants of 172 Duchess Street, beyond exchanging obligatory, polite nods of acknowledgement. As soon as their curiosity was satisfied and the circus left town they would all return to normal routines, possibly first arranging to have their security systems upgraded. Their mourning would extend little further than to contemplate how the recent murders, when read about over breakfast, might impact property values.
Not that he condemned them for this. So long as after finishing this breakfast, they didn't decide to kill their wife, husband or postman, their world would not infringe on his. He couldn't remember when he first lost faith in human nature. He'd once been sure of it but once he'd also held faith in a caring God, and before that, Santa Claus and the Tooth Fairy.
He had no need to show ID to the unfortunate, young constable elected to man the tape barrier. At six-foot-three, two hundred and thirty pounds, and a former self-defense instructor within the Metropolitan police, Detective Inspector Hassom was easily recognizable.
He pushed open the sturdy front door, entering the hallway of what was now a charnel house. The stench always provided the first warning; a noxious mixture of excrement, acrid intestinal fluids and the metallic scent of blood, somehow made more nauseating by the slight sweetness the pungent aroma carried.
He dismissed the offer of scented grease from one of the ambulance crew passing him as they left the scene empty handed. As foul as the air inside was, Hassom always felt oddly disrespectful when smearing it below the nostrils. As if refusing to tolerate the mild discomfort of smelling the remains of someone who lost their very existence was tantamount to a personal snub. He also believed, with five senses to use in gathering information and gain a feel of what occurred, it would be wasteful to nullify any one. Only his emotions could he afford to deaden, in advance of what must be witnessed.
Hassom observed the recently decorated hallway. The cream walls were unblemished, showing no signs of age. A good replication of the original cornicing framed the tall ceiling, from which hung a tastefully small and dust-free chandelier. An antique cloak stand bereft of coats stood left of the entrance, placed for its aesthetic qualities rather than as a functioning utensil. A leather Gladstone bag was the only item adorning it. A restored, Victorian writing desk served as a telephone table, the mature focus beside it well maintained, with glossy foliage as gleaming and dust-free as everything else. Framed photographs of a young female, giving permanence to her graceful ballet poses dressed one wall. A thick slick of clotted blood ran the length of the other, varying from four to five feet in height from the richly carpeted stairs. The red-brown line tapered as it reached the small landing where the staircase twisted. The tan carpet on the lower stairs was smudged with small blotches of blood. At the top of the first flight of stairs lay an unclothed forearm, severed at the elbow.
The burst of a camera flash drew him to where a photographer and two other policemen awaited him in the lounge. The rear wall appeared to have been opened to the adjoining dining area, creating a large, modern living space. Four high backed chairs of the six in place around the maple and smoked glass table were occupied. The two end positions were vacant, though all six places had been set with plates and glass tumblers, complete with colored drinking straws. A selection of breakfast cereals, crisps, biscuits and long since melted ice cream lay in bowls scattered across the table, a sampling from each represented on the plates.
Across the table, facing Hassom over smaller forms he yet avoided looking at, sat one male and one female adult. He estimated their age at mid-thirties. Both were attired in professional looking outfits. The male wore a mustard, open-necked shirt and charcoal grey suit trousers.
The female was clad in a navy blue, knee-length skirt and what would have once been a plain, white blouse, together suggesting a bank clerk's uniform. The blouse was now predominantly deep red, with blood from where the top of her head was smashed inward, presumably with blows from the hammer lying discarded on the floor. Splinters of bone, matted hair and brain tissue clung to the tool, covering the metal shaft and rubber grip, sparing only where the handle had been clasped. Her left arm rested, pinned against her torso by the same rope which bound her to the chair, wound around both the seat and the upright wooden frame.
At her side and similarly restrained, though with electric extension cable in place of rope, sat the male; presumably her husband. His free arm ended in a tangled mess at the elbow, which at first sight could be accredited with the gore across his abdomen and lap. A closer inspection revealed the shirt front merging with his stomach, where a multitude of stabs and lacerations blended material and flesh into a ghoulish mix.
The chill from his rain-soaked trousers crawled up to meet the perspiration on his face as Hassom forced himself to examine the couple more intently. He noted the near empty plate at the kitchen end of the table where the killer would have been seated; the untouched serving at the other end, the curled drinking straws standing proud of orange cordial, which he smelt from the glasses. Blood pooled an arm's length behind the male's chair, where he must have kicked out and gone over backwards before being reset at the table. He examined the table contents again. All the items looked to have been quickly assembled from amongst kitchen cupboard offerings, with no preparation or planning needed.
The raised abrasion above the male's left temple showed where he'd most likely been rendered unconscious prior to being fixed in his seat. Hassom took this in while stalling, steeling his resolve before casting his eyes down to the two smaller figures in chairs, mercifully facing away.
He judged the boy to be six or seven years of age, not so much older than his own son, Len. The girl who he recognized from the hallway pictures, a little older again. She had lived perhaps ten years. They wore the pajamas they must have been dressed in when taken from their beds. The girl's ankles were badly grazed where she'd strained against the coat hanger wire used to fasten her legs to those of the chair. Hassom looked up quickly; too late to prevent noticing the embroidered slippers she and her brother wore. He hadn't wanted to assign names to the bodies. Not until after the initial inspection and they'd been moved, to rest with some dignity, away from this twisted nightmare.
Sam and Laura. There it was. The gold colored thread sewn into both the blue and pink slippers spelt the names, and the image remained behind his eyes even after he belatedly averted his gaze. Laura and Sam wore huge smiles, imposed on their faces with what looked like, but Hassom instinctively knew was not, lipstick. The upturned double crescents curved to meet their pale cheekbones, and appeared to have been crudely finger painted. Little Sam sat with his head bowed forward as if in contemplation of the steak knife handle protruding from his chest. His sister's throat had been opened wide, possibly with the same implement. Her head hung back at an unnatural angle, impossible in life, her dead eyes staring to the ceiling behind her.
"God, no." From the depths of his stomach the words escaped Hassom's constricted larynx as he tried to keep from visualizing too graphically the possible sequence of events.
Who died first? Who'd been forced to sit watching as it happened?
He found no comfort in any possible order, needing more facts before able to depend on any scenarios he might envisage.
Two forensic technicians worked around him, inserting thermometers into the melted ice cream and in less inoffensive situations, pushing them deep into dead flesh, as if monitoring the progress of a Sunday roast. Hassom retreated outside, needing the night air to clear his head and a cigarette to suppress a rising anger and frustration. He must yet dispassionately reconstruct the incident, ensuring he missed nothing which might delay finding the sick bastard responsible.
A constable followed him outside; as pale as the corpses he escaped and clearly glad of an excuse to leave the macabre dining scene…the macabre party. The silence from inside the house stayed with them, as with unsteady fingers he managed to light his own cigarette. The rain eased to a steady drizzle from which neither man made any attempt to shelter.
"Was there music?" Hassom demanded, his voice a rasping growl due to the tension refusing to leave his body.
"Eh…ah…sorry. DI Hassom isn't it?"
"Yeah…of course. And you are?"
"PC Maguire, sir. I was responding to a complaint about noise from a neighbor."
"Was there music playing when you arrived?"
"A complaint about noise, that was all. I mean… Christ, who'd have thought?"
Hassom guessed the officer was in mild shock and needed to offload. Only a few years separated the men. He placed Maguire in his late-twenties, maybe twenty-eight and inexperienced. Hassom worked murder cases since three years after joining the force at eighteen, having, as his superiors put it, 'displayed an understanding of the mind of his quarry.' He'd raced through criminal psychology exams, the academic curriculum only contributing precedents and terminology to what always came instinctively to him. In an attempt to repair a faltering marriage, he once left the department and accepted a training position, but that suit, he realized in hindsight, would never have fit. He lacked the patience to teach and when Andrea took their eight month old baby Len, leaving him to his 'black moods,' he stopped trying to be the proverbial square peg, and returned to what he did best. Maybe the only thing he did well.
Hassom understood the root of Maguire's distress. "Nobody would expect a nuisance neighbor report to be acted on straight off. You take these things at face value, and you'd other duties tonight, no doubt… You're in no way responsible for any of this madness. You understand?"
"But if I'd got here straight away…"
"And if your aunt had balls she'd be your uncle. Snap out of it constable and help stop this happening again."
"Yes, sir… Sorry… Music, you said… Yes. Some bloody awful nursery rhymes. Party tunes sung to music. I turned it off, but I'd have put it in my report."
"Of course you would. Did you check the rest of the house yourself?"
"Ah…yes. Not much more to see…thankfully."
"Anything ransacked or obviously missing? Any signs of a struggle upstairs?"
"Not really, sir… Except for the arm, that is." Maguire's voice quivered as he spoke.
"Signs of forced entry?"
"None evident."
Two unmarked cars pulled up, bringing four more C.I.D. officers to the property. They approached the doorway.
One greeted Hassom. "Never good news if you're at the scene."
"No, it's not good in there at all," he replied, planning how to make best use of the new manpower. "I need you to pair off and do a fast check of all the houses on the street. Start with this side first. We have one or more killers on the loose and possibly still in the area. More support's on the way for a full sweep, but we're not dealing with a rational mind here, so it's possible the culprit is nearby watching the show or, God forbid, repeating this in another home as we speak." He indicated the row of terraces behind him. "I want all these houses' occupants, and those in the street backing onto them accounted for first. Maguire, you stay here. Nobody gets in unless they're with forensics, got it?"
"Yes, sir," said Maguire, in obvious relief at the order which would keep him outside the house.
Without waiting for a response from the others, Hassom re-entered the property, leaving the most senior amongst them to relay his instructions.
Hassom hailed one of the growing forensic team dusting for prints in the kitchen. "Have you a time of death yet?"
"I'm very well, thanks for asking, and how are you, Bill? I'll be more precise later."
"I'll take what you've got, Francis, and I'm happy you're well. How's the family? Is your fucking dog healthy?"
Francis returned his associate's stare for a moment before giving a nonchalant shrug. "Hmm… I'd say the ice cream was taken from the freezer seven to eight hours ago. The adult male died shortly after, no more than an hour, and approximately half this after the wound to his arm."
"Is that what killed him?"
"Left in this position and given time, it would have, but no. The blood still pumped when the abdominal lacerations were inflicted. And don't interrupt. Do you want the times of death or not?"
Hassom inhaled slowly through his nose, holding for a second before releasing tension in a practiced controlled flow through taut lips. When the need arose, Francis was his first port of call and though their outlooks and personalities were poles apart, Hassom held the medical expert in too high regard to let himself down with another rash retort. Right now, however, he had no humor in him. "Please continue."
"I'd place the other three deaths close together, probably just under six hours past."
"Around midnight then for the children?"
"If you say so."
"Thanks, Francis."
"You're very welcome." Francis's words overlapped his own.
Hassom found the third floor rooms to be much as Maguire explained, with no evidence of theft or destruction. The bed clothes lay half off Sam's bed, reaching the floor and pointing towards the doorway. Across the landing stood the entrance to a pink and white walled, soft toy haven which could only be his sister's bedroom.
Small circular depressions in Laura's carpet, inches beyond the bed post bases and directly below the wall-fastened headboard, depicted a struggle. The terrified girl would have clutched the bed frame, being the only solid item within reach when she was ripped from the mattress, dragging the bed a short distance before the grip of her small hands failed her.
Nothing else appeared to be out of place. Tiny cylinders of strawberry and melon flavored lip gloss remained upright beside an arrangement of flower scented miniatures on the white painted dressing table. Leaning against and partially hiding a hatch doorway to the house eves, an undisturbed assortment of plush bears and cartoon characters sat upright. Hassom frowned, practiced lines furrowing from his eyes and firm set mouth. There were several places for a child to hide from obvious view in the bedrooms or through the eves hatch, and the state of Sam's bed linen and Laura's bed suggested the children were asleep until accosted… Yet the corpses downstairs wore their slippers.
Checking Sam's room again, Hassom found a dark brownish smear to the underside of the wardrobe handles. Not wanting to disturb the dried blood print, he prized his pen knife between the doors and opened one, to see pairs of little shoes, lined up in orderly fashion.
His thoughts turned back to the severed arm at the top of the first flight of stairs, and the track left on his stretch of wall. The killer used the bloody stump as a child would run a crayon up and down while running alongside a wall or fence. Judging by the pattern of the curving line, he did so while skipping up the stairs, marking each footfall with the blood-soaked toes of his shoes. He'd fetched the slippers for the children in a ridiculous attempt to pacify them and keep his party going. The children must have been hysterical. They would have just endured the sight of their father having his only free arm hacked off when he'd made a futile attempt to lash out, or been caught trying to untie his or his wife's restraints.
Hassom returned to the dining room and his mind raced on, piecing together the family's last moments from all his senses could perceive. He could almost witness first-hand the monstrously immature killer's mind flying into a rage. The fatally wounded father's injury or actions spoilt his party to the point where his kind gesture of fetching, and even placing slippers on the feet of the boy and girl, didn't stop them crying. He'd put smiles on their faces, great big smiles, but still the man made them feel bad because he wouldn't stop groaning and kept looking so pale and sad.
It was a fucking party!
He'd given them a party, and the ungrateful bastard just sat there ruining everyone's fun. He screamed at them all to eat their food, launching himself at the man, and with his knife shut him up.
Hassom's head throbbed as he reined himself in. He knew his speculation had gone too far, but was equally certain the facts indicated a course of events similar to the reconstruction he envisaged.
The killer was insane. He harbored no doubts to the fact. Carelessly impulsive too. In plain sight were at least five examples of where he left blatantly visible, blood-stained fingerprints.
The early morning, though still overcast with death-grey, bloated clouds shed enough light into the rear garden for Hassom to spot two deep indentations in the lawn. Someone, possibly the murderer, landed here when pushing off a perch on the tall, ivy strewn wall separating the property from adjoining gardens. The back door wasn't locked, and this probable method of entry made it less likely the killer had been known to the family. That would have been too easy, he thought. He was confident last night had been the murderer's first kills due to the lack of care taken to cover his tracks.
Another certainty was, if not found quickly, this lunatic would kill again…and soon. He'd relished his moment too much not to try and recapture the thrill of power he experienced.
After seeking out Francis to ensure he'd be contacted immediately when his findings were complete, Hassom left the scarred home. Maguire remained dutifully guarding the front door, busy ignoring persistent calls from the first journalists and news broadcasters who'd already arrived. Questions from several of them were thrown at Hassom as he steamed past to his car. His grim demeanor, bulk and reputation combined to deter anyone from blocking his path, and he refused their frantic chorus with a practiced ease, bordering on contempt.
It had been twenty-five hours since he'd risen, and the rancid atmosphere of the house clung to his body like an invisible film of scum. He needed to shake off the night with vigorous exercise and a long shower. More pressing though, was the need to make preparations for when the forensic results became available. He aimed his car towards the Central City Station. Hassom was afforded more free rein and autonomy than his rank attributed, but now he needed more manpower than he could ever hope to commandeer. For this he would first need to brief Chadwell, and the over-privileged waste of air would likely make him beg for it.
*
"Yes, come in," said Deputy Chief Constable Chadwell. He set aside a letter he'd been composing to a particularly trying community group leader, in response to a privately addressed, so-called unofficial complaint. Accusations of racism or victimization were a public relations nightmare, and his response required the utmost care. However unofficial this most recent complaint from Wassiem Rhana masqueraded to be, DCC Norman Chadwell suspected his answering correspondence may well be waved above the head of the publicity seeking hypocrite to crowd and camera alike, should the correct tone for conciliatory non-admission not be met.
The brutal facts, he reflected, were asylum seekers and immigration were at record levels. Refugee holding centers and public housing had been stretched far beyond capacity with victims of low level flooding even before the Eastern sea defenses were overwhelmed. Illegal entries from arid countries no longer capable of sustaining their population existed as a swelling tide during recent years, and now with masses trying to escape revolution and counter-revolution alike, this tide had become an ever more persistent flood. Inarguably, those who lost their homes or homeland had little left to lose, and thereby felt less bound by the rule of law. Of course his officers targeted the dispossessed in their attempt to stem the epidemic of crime within his city. This logic however, would not be confessed in this or any other letter.
Chadwell grimaced. The political correctness he felt obliged to use in his reply to Mr. Rhana had caused his ulcer to flare up. Watching Hassom close the door behind him, for a moment he envied the detective the simplicity of his role. He couldn't imagine this uncompromising figure negotiating the politics and bureaucracy filling his days. Such thoughts were preposterous, of course. Chadwell spent years cultivating a network of friends and contacts to ensure the upward progression of his career. To do less would be to fritter away the exclusive education and introductions his heritage facilitated. Advantages he would be expected to reciprocate for the next Chadwell generation.
"Good Lord, Hassom. You look like death."
"Well there's a lot of it about, sir."
"Yes, quite," said Chadwell, uncertain whether humor or sarcasm were the intent of Hassom's response. "Indeed… A grizzly one, I understand. Have you formulated a probable profile for the culprit yet?"
"Of sorts. I'd say a male of western culture, most likely home grown, late twenties to early forties. Menial employment or unemployed. I doubt he lives independently, or at least won't have done so for long. Physically strong, with a possible history of aggression, but nothing of this scale. Judging by the differences in how he dealt with the adults and children, he was abused or neglected by his own parents. He'll have been in an institution or somewhere on the system before now." The detective paused for a second before continuing. "He's left us numerous prints so I doubt profiling will be key to identification. It's more a case of finding him, once identified, before he acts again."
"And in your opinion he will?"
"He's a classic sociopath, and has a taste for it now. There'll be no period of remorse before he strikes again."
Chadwell noted the conviction in the detective's voice, valuing the instincts and reasoning behind it. Few would have recognized in this disheveled bear of a man the insightful and analytical mind which so contributed to the success of his department. Success reflected in the all-important, government league tables against which he would inevitably be measured. Who else would have identified such aptitude and cold intelligence beneath Hassom's rugged exterior, looking as he did, surely more gladiatorial then senatorial?
"I concur. And what would you suggest as our next move?" Chadwell pushed the letter further to one side, setting two leather-bound rectangles of wood atop it as a paperweight; the considered gesture effective in showing his attention having become undivided.
"There's little or no planning in the murderer's methods, beyond perhaps the choice of victims. The items used as weapons all belonged to the household. It's possible there was no thought to after the event and he could even still be in the area. I'd continue the search, and while that's on-going I'll need a list of recent releases from hospitals, institutes and occupants of halfway houses. In case the victims weren't randomly chosen, we'll need to check their relatives, colleagues and recent service providers on the chance someone stands out. I believe we'll have a positive identification soon though, so there's more to lose than gain in interviewing suspects or making our intentions known until that comes through."
Chadwell waited to see if Hassom had anything further to add before speaking. "Certainly. We have no desire to drive any parties involved underground." He noticed just how exhausted and disheveled Hassom appeared. His pallor accentuated the usual darkness beneath his eyes and a deep shadow of stubble. "I'll assign PC Clements to you and instruct PC Perry to research the relations and contacts. You do what you do best, Hassom. As usual, I'll take care of the bigger picture…and the press."
The detectives jaw tightened. Hassom had never been much of a team player, and had trust issues to match those of a beaten and abandoned dog. Left to his own devices, however, his parallel investigations often brought more immediate results than the wider procedure… He was worth suffering.
"Our uniforms are taking care of the door-to-doors, so go home and get some rest. You'll be contacted with any developments." Chadwell held up a hand to ward off any intended protestations, returning his attention to the letter, sliding it back to a central position on his desk. "You can't conduct interviews looking as you do anyway, Detective Inspector. You'll only scare the public, and believe it or not, I do have one or two other competent officers in my charge."
*
Hassom sighed relief on finding an empty parking space outside his rented flat. The run-down, five storey tenements were designed in the 1920s when car ownership had been a rare luxury rather than the norm. The third-floor flat overlooked its unkempt parking area and the busy road beyond, the view being its best feature. The industrial carpet used throughout was garish orange, matching not the curtains or anything else in the cramped living space. It had however lasted through God only knew how many tenancies fairly unscathed and would undoubtedly service whoever succeeded Hassom's occupancy. The one grace to make living in this shit-hole tolerable was its low rent, enabling him to maintain the family home in Kent. It was in a decent neighborhood with good schools, in an area which suffered no flooding. He could do that for Len and his mother at least, he thought, knowing he owed them better.
He closed the dark green drapes before stripping down to shorts and making his way into the solitary bedroom. This room housed the only items he'd taken from the family home after the separation, besides his clothing and a few precious photographs. Containing no bed, the area was laid out with a home gym and rowing machine. A well-worn, pear-shaped punch bag, its leather surface a patchwork of shapes and colors, hung suspended from the ceiling, above a soft mat stretching the width of the room.
Hassom began to stretch and do warm up exercises, so familiar to him after years of his rigidly daily regime he no longer need give any conscious thought to the process. A fact he regretted, as now his mind was drawn to unwanted images.
A family home pristine from a mother's attention.
Only when his breathing and heartbeat increased and perspiration coated his chest did he direct his attention to the leather.
Worn, scuffed material like abrasions on skin.
After two minutes of hammering knees into black patches, elbows to red, fists to yellow and shins to green he reversed the order of blows to their corresponding colors.
Browning stains on tan carpet leading up stairs.
A further two minutes and he changed tact, ignoring the colors and aiming strikes to shapes instead.
The shadow cast from a knife protruding from a narrow chest.
As the bag swayed and spun under the barrage, the exercise became as demanding of mind as it was of body, honing reflexes as well as working the fast, hard muscles throughout his body.
Embroidered names. Laura. Sam.
Eight minutes in, he regretted the cigarettes from earlier, having to push himself to complete his circuits. The concentration and exertion helped clear his thoughts and by the third circuit he no longer had images of dead children resonating in his head. By the time he showered and dropped onto the living room's bed-settee he felt physically and mentally cleansed, or at least drained. Whichever one was true, the result was the same.
Sleep came almost instantly, deep and mercifully dreamless.
Chapter 2
Pushing free of the camp bed where he'd endured the last six nights, Professor James McKenzie readied himself to face the morning chill. A glance at his watch confirmed the time to be 6:40am, as he already judged by the dawn light filtering through the canvas walls of his tent.
He massaged his eyes awake and as they regained focus, swore softly. The papers he'd been studying the night before were strewn across the floor, dropped when weariness from the day's exertions drove him to sleep. His back protested as he bent to gather them, and he cast a reproachful eye at the offending bed, its length being hardly adequate to cope with his own willowy six foot-plus frame. The knot in his stomach however could not be attributed to the bed, but the unrelenting passage of time.
Setting his notes, mainly maps of the cave system his team explored, on the most generous desk the confines of his tent could accommodate, McKenzie looked again at the most recently drawn. These he had modified to include some of the squeeze holes and offshoots from the main caverns and tunnels, previously omitted due to their seeming insignificance.
The original cartographers had been set a monumental task in charting the hundreds of kilometers of subterranean features and caves with which the region was endowed. The longest of these, Ali Sadr, cut some thirty-eight miles into the eastern slopes of the Alvand mountain range. It opened out just a two hour hike from the site he'd chosen as a base for their archaeological expedition.
They would have no time to take the tour.
Beside the newly tidied stack of papers lay the cause of his journey to the Zagros Mountains: an A4 sized photograph, delivered to his Cambridge home five months before on an otherwise ordinary, wet November morning. This constituted the most recent result gained from enquiries to every major museum and university across eleven countries. He had also undertaken a horrendously expensive advertising campaign amongst leading journals and newspapers, spanning the Middle East and Mediterranean. The enquiries and advertisements asked for any information regarding occurrences in ancient texts, antiquities or architecture of a symbol, too quickly becoming known in certain parts of the academic community as 'McKenzie's Folly' amongst other names. Not that McKenzie would ever admit the pseudonym perturbed him in the slightest. In fact, his closer colleagues would suggest he seemed to encourage a certain distance from his peers, even enjoying the consternation attracted from more traditional archaeologists and historians.
The symbol itself was of basic design: An equilateral triangle containing three circles, one at each angle and connected at the centre by lines curving inward. One waved horizontal line crested the triangle, with two more such lines beneath its base. The image in the photograph differed in only one important aspect from the publicized design. The former lacked the additional detail of a circle within an ellipse; a simple depiction of an eye watching from above.
Now fully awake as he marked another day off the mocking calendar, McKenzie again cursed under his breath. An entire week was gone from the single month allowed him by the Iranian officialdom to conduct explorations which could take years. Even this, he reflected, represented one month more than he would have been allowed, if not for Sardir.
Fourteen years prior to his appointment as curator of Tehran Cultural History Museum, Sardir Khan worked with McKenzie on the Samarkand dig. Sardir even openly acknowledged the professor's research as crucial to the completion of his renowned book on the life of Tamerlane. Through subsequent years, though meeting only infrequently in person, the two had kept in correspondence as their respective interests and research overlapped.
It was Sardir's Tehran office address given to receive responses to McKenzie's advertisement in Hamedan's main newspapers. It was Sardir who forwarded the photograph, sent in by a farm worker, recognizing the image from an engraved cave wall. And it would be Sardir again, McKenzie was painfully aware, who would be the ultimate beneficiary of his team's labors, should time win out against their hurried search for his ancient prize; a discovery so frustratingly near, he could all but reach out and touch it.
"All but," he mumbled, stooping to push aside the tent flap and step into the brisk air.
Before him, on the few flat areas amongst the craggy rocks sloping down the mountainside, stood three more tents. Equal in size and design to his own, they were occupied by the other members of his six strong expedition. At this elevation only dry brush interrupted the granite and limestone landscape: the barren ground sparsely sprouting enough foliage to tempt the occasional goat away from more plentiful fodder a few hundred yards below, where scattered acacia swayed with the cold breeze.
Behind the tents, the ground rose steeply to a high ridge promising shelter should the weather become less clement. Facing this incline from the living rock of the mountain gaped the cave's mouth. McKenzie set off towards this opening, where he stored the group's equipment just past where the symbol which drew him to this place was carved. Faint in the distance behind him as he entered the cave, he heard the persistent buzzing of an alarm clock rousing the others to the fresh morning. Pausing to stroke his fingertips along the groove chiselled atop the triangular motif, McKenzie uttered a solitary word.
"Today?"
The only answer came from his stomach, as the knot residing within tightened further.
Rounding a sweeping bend on his way back to the cave entrance, McKenzie met the vision of Hannah carrying a plastic container serving as a breakfast plate. Her brown hair not quite long enough to be held by its carelessly placed clasp, strands were already falling to point to the upturned corners of her lips.
"I suppose you skipped breakfast, again." Hannah pushed the food container into McKenzie's hands, pausing just long enough before releasing her hold on the plastic to ensure he stopped walking rather than snatch the food from her grasp. "And were we intending to eat anything this morning?" she chided, failing in her attempt at a suitably matriarchal and reproving glare.
Eighteen years his junior, at twenty-nine, Hannah worked for McKenzie on and off since college, where she attained an acceptable BSC in geology. Like McKenzie, she preferred working out in the field to the office, but her appointment as his second in command was earned by the administrative and organizational skills she possessed as much as her practical on site contributions.
"Smells delicious." McKenzie seated himself on the cave floor, tearing off a chunk of bread and readying it for use to spoon some egg. "Cooked by your own fair hand, no doubt. You'll make someone a grand wife one day." He knew Hannah simply didn't do cooking, but could seldom resist baiting her.
"Not bloody likely. It's Gregg's creation, but I'll let him know you approve."
"Everyone's been given their allocated areas for the day?"
Hannah hardly nodded confirmation. They both knew she wouldn't have left camp without having done so. Despite the fact they were all in constant radio contact, McKenzie insisted everyone 'buddy up', always negotiating the unexplored tunnels in pairs in case of accident or injury.
"I'm sending Gregg with you today, if that's okay," she said. "The poor boy's still a bit in awe of the great James McKenzie and the sooner that's out of his system, the better."
McKenzie swallowed the last of his coffee. "Oh, I don't know… There's nothing wrong with a spot of well-placed awe, don't you agree?" Offering her a wink, he stood, brushing errant crumbs from his lap. "Well, let's to it then."
*
Gregg Ormsby caught up to the professor in what they categorized Section F of the cave system. Arriving just as McKenzie's boot toes, digging for purchase, edged him further into the tunnel wall through a horizontal shaft, Gregg came to a halt mid step, a pace short of the squeeze hole. He made to move closer, shifting his weight awkwardly between his feet, before progressing to the opening. With no further hesitation he poked his head into the gap and called out past McKenzie's soles. "Um… Professor McKenzie, good morning." The surrounding walls both amplified and muffled the words.
"Hello Gregg. Setting four."
"Sorry? Oh, yes…four." Gregg rummaged through his backpack for the radio-com device. The microphone was contained within a neck band with the ear piece having pre-set frequencies of one through ten. Having adjusted the setting, Gregg's voice came clearer. "If, um, you like, I could go down this one, or will I follow on?"
Resisting temptation, McKenzie answered. "You have the next one. Make yourself comfortable, Gregg. I'll let you know if there's anything worthy of your attention." In truth he didn't believe he'd ever seen the youth look comfortable: Eager and often anxious, but never truly comfortable. Still, this would only be the insecurities of his age, and McKenzie appreciated the young linguist was gifted. His ability to absorb languages, both modern and ancient was uncanny.
The burning sensation in his shoulder muscles brought McKenzie's attention back to the task at hand. The confined space afforded him lateral movement but insufficient height to angle his helmeted head upwards. His field of vision restricted to the ten inches before him, he prized himself slowly forward, waiting to ascertain whether the tiny chamber would open up or culminate in another dead end. He contemplated this thought as he pushed on, in an attempt to keep more suffocating ones at bay. After twelve yards, McKenzie was forced to exhale, emptying and compacting his chest to scrape through where the ceiling dipped a fraction. Shallow breathing, he continued for one more body length before the floor slanted down, widening as the tunnel turned sharply left.
Making use of the opportunity, he paused for several long, calming breaths before rounding the turn. His lean frame enabled him to proceed until the ceiling encroached upon his crawlspace once more. This time the gap narrowed to little more than a hand's width, though he could see it open out again a short distance further on. He had just enough maneuverability to reach back to a pouch braced to his inside leg, and extract a small camera. Extending it forward as far as he could reach, McKenzie made a brief, night-eye recording. Tapping the switch on the band at his throat four times in quick succession, he signified to Gregg not to follow, then began to retrace his journey. Stifling what would have been an unacceptable third expletive so early in the day, he realized, with no room to turn his body, this time he must negotiate the crawl space in reverse.
"Mark her off," said McKenzie, straining to hide his disappointment as he shuffled uncomfortably from the hole. "I think we can eliminate this one as being of interest, too.
Gregg scored a chalk cross above the opening, replicating this in ink on the feature's representation on the appropriate map. "The cave system is vast. Do you think we'll have time to search it all?" He fidgeted at his pile of maps, wincing as he spoke.
McKenzie offered no response as he pushed free of the wall. Upright again, he arched the persistent stiffness from his lower back before turning to Gregg. The delay appeared to cause the younger man some unease, though McKenzie displayed no sign of concern or disapproval at his question.
"Ah….sorry…Dr. McKenzie…I didn't mean…"
"Just McKenzie, Gregg. No need for formalities here." McKenzie's expression was genuinely warm, though he held eye contact to reinforce the point. "And you're quite correct. Time restrictions won't permit us to detail the entire complex. Not at all properly at any rate, but I'm still rather hoping we're not required to. You see, if the depiction marking this cave system is genuine, and I have reason to believe it is, then it was intended as a sign post, if you like. And you wouldn't install a sign post over something you did not want found, now would you?"
"I suppose not."
McKenzie thought his response was offered more from politeness than with any real conviction, but continued regardless. "So I've never expected any necessity to search a great distance from where the arterial cave opens onto the outside world."
"I see," said Gregg, glancing furtively back up the cave in the direction the other indicated. "And you expect to find something of Tamerlane here?" He looked up to the taller man, but McKenzie ensured his face gave away nothing.
"Some might deduce that."
Gregg's short-lived confidence seemed to leave him. "Well, it's just, you know, after your work in Uzbekistan and, what with Tamerlane having conquered this region, I just…"
McKenzie interrupted, relieving his younger colleague from his misery. "Don't worry Gregg. Curiosity is a necessary attribute in our business. Where would any of us be without it?" A glance at his watch confirmed his estimation of how the morning was progressing. "Let's get back to camp, shall we? Jock should be back from town with the supplies."
McKenzie strolled towards the warming daylight and Gregg fell into step in time to catch his next words. "Of course there would appear to be one minor flaw with my helpful stonemason's sign post theory." He kept a degree of levity in his voice he didn't feel, aware he was risking more than just his own reputation with this expedition.
"What's that?"
"We haven't found a damned thing yet!"
*
"Alright, Boss." Jock hailed, from behind an array of merchandise he'd just off-loaded by Hannah's tent.
Alistair Blain, a Glaswegian born, barrel-chested demolitionist had been tagged 'Jock' in the Royal Engineer Corp. as a young man and the name stuck. Now, despite his fifty-plus years and a burdened two mile hike from the narrow road where he had to leave the Range Rover, his breathing was even and he showed no difficulty talking as the two men approached him. "And how's our wee mouse, here? Are ye working with the big man himself today?" Jock seldom called Gregg by name, but a variety of unflattering alternatives, usually inspired by his appearance.
Gregg pushed his spectacles inwards towards small, wide-set eyes. Together with his dainty, rather pointed ears, these seemed all the ammunition Jock required to banter with. His neck reddened, but more from embarrassment than anger. Gregg, as did most, liked the stocky Scot and would always remember the one occasion when he'd risen to the bait. Through sheer frustration, he'd shrieked a barrage of abuse that would have moved a nun to violence. Jock simply clapped his hands, cheering and roaring with laughter as if he just won a particularly amusing game. The ex-sapper, Jock, after all, chose to retain his own nick name, first delivered to get a rise from him by his predominantly English fellow squaddies.
"I could kill a cuppa tea after ma travels, if there's a wee helpful elf to make one."
"Oh stop it, Jock," Hannah said, leaving her tent. "You're incorrigible…though a cup of tea does sound good." She winked at McKenzie.
"Why not? Are the others still in sector D, Hannah?"
"Yes. They'll likely not be back until dinner calls."
"Right Gregg, tea for four, but brew extra just in case. Then give me ten minutes to go over the supplies with Jock and we can return our proboscises to the grindstone."
"Actually James, Mr. Benton contacted us. He's asked for you to call him before 10 a.m." said Hannah.
McKenzie accepted the handset Hannah offered him, setting it beside a folding chair he eased into, turning to her once more. "You take Gregg to continue with Section F. You'd been planning to survey G, right?" Given her nod, he sighed deeply. "Well Jock. That'll be you and me then."
"Aye, boss." Jock raised a hand to receive his mug from Gregg and sucked at it loudly. "Y'know, tea always tastes better when it's made by an educated man."
McKenzie regarded the satellite telephone a few inches from his feet. So…Benton wanted an update, he thought, releasing some tension with a sigh.
To date, Benton's personal role in their partnership remained that of a passive sponsor, making no attempt at interfering with McKenzie's methods, direction or priorities. So long as the tycoon only demanded his name on a few museum plaques and the right to regale dinner guests with tales of exotic finds in return for his influence and financial backing, the dual-serving association would continue.
Gregg sealed the mugs in an airtight container to be cleaned at the close of day, away from camp so not to encourage unwanted scavenging insects to their quarters. When he and Hannah left to resume the exploration of their designated section, Jock wished them luck in what he referred to as 'The Search For Spock…and Hannah too.'
McKenzie drew the still chuckling Scott back to the new provisions. Fresh food, batteries, kerosene, and a few over the counter pharmaceuticals were laid on the ground as the sum of what could be transported in one trip from the Range Rover.
"These what you're hoping t'see?" Jock looked proud as a new father as he produced a beaten leather carry case. Unfastening the straps, he pulled the sides as wide apart as the case allowed. Inside were two Russian made SKS semi-automatic rifles and two 9mm P-96 revolvers, complete with a total of about one hundred and fifty rounds of ammunition.
One of Jock's dubious talents was the ability to find the shadowy circles necessary to procure goods not freely available on high streets or souks, within hours of entering an unfamiliar city.
"Do ye remember which end to point with, Mac?"
McKenzie selected a rifle, checked the empty chamber, tested and shouldered the weapon. "Well, as you always say, better to have one and not need it…"
The two men once fended off bandits, while on a site in Tunisia, and they were very aware of the wild rumors often surrounding archaeological digs, and the aggressive attention they could attract. They were, in McKenzie's opinion, hardly equipped to deal with any coordinated assault, but could at least deter a solitary or small number of armed opportunists. This would realistically be the more probable threat, and he felt more secure now they were better prepared, should that eventuality reoccur.
McKenzie slung a coil of nylon rope over his free shoulder while Jock finished kitting out his haversack. "Ready to go?"
"Aye. Lead on McDuff."
The majority of caves and tunnels connected at various intersections deep within the mountain, with the most easily accessible route to Section G a few minutes' walk west of base camp; a vertical drop, nine yards down from the rubble strewn ground.
Jock followed down the rope immediately after McKenzie released the lower end. When he touched down, his torch and helmet light added to McKenzie's to illuminate two tunnels fanning out from each other.
The narrower, left tunnel had been marked with chalk high and low. The right, just tall enough for Jock to stand up straight when inside, forced McKenzie to crouch as he entered. They passed sub-tunnels left and right, at first all presenting chalk crosses which McKenzie verified with his map. When the chalk markings ceased, Jock tested the walls every few paces, checking for hidden cavities behind the rock face with sonic equipment. Encountering in plain view openings to other channels, they ventured through each in turn, chalk marking as they explored.
Jock's impatience neared breaking point on several occasions when his heavy frame and wider girth's incompatibility to the narrow crevices, was amply demonstrated. Standing back while asking others to go forward was a trait he detested in certain 'officers by genealogy' he'd served under, and not in his own chemistry. Repeatedly he had to concede defeat and make way for the taller, narrower figure, also far from ideally designed for the task. Consequently, Jock's demeanor and language were descending at a much more impressive rate than that at which the two men progressed.
Jock stepped back from a pot-hole at his feet, offering it with an outstretched palm to McKenzie. "The words, spare dick and wedding come to bloody mind."
"Oh now, I wouldn't say you're just quite so useless, Jock." McKenzie teased, enjoying his friend's embarrassed discomfort, though its cause was resulting in his own discomfort of a much more physical nature. Fresh bruising and scrapes would undoubtedly soon be added to those he already earned throughout the past week's endeavors. A small price to pay, he decided. It was refreshing to see Jock, relentless in heating the faces of others with his coarsely effective barrack's humour, to be wrong footed himself. McKenzie didn't let the self-admonishing continue for long. He shifted his gaze to where their rifles leaned against a natural column of rock reaching to the ceiling. "Still, I have to admit, this may not be the type, but there have been plenty of other tight spots where I can think of no-one better to have had at my side."
"Ah, boss. Never knew ye cared. Mind, you'll have me worried with all this talk of wanting me in tight spots–" Jock was interrupted mid flow by a short burst of static emitting from their earpieces before transforming into Hannah's animated voice.
"McKenzie… McKenzie…you receiving me?"
"Loud and clear, Hannah."
"We may have found something…or it might be nothing, but I'd like your opinion at any rate."
McKenzie and Jock were already snatching up their equipment as he replied. "We're on our way."
Hannah greeted them halfway to the cave adorned with the Folly. A frown passed across her swarthy features at the sight of her colleagues, armed.
Jock held his hands out in a conciliatory gesture. "Don't fret, hen. I dinni forget you. There's a pretty pistol for you and Aussie waiting in your tents."
McKenzie smiled at his friend's apparent misinterpretation of Hannah's discontent. He'd tried to make Hannah train with firearms after the incident outside Tunis, and though her calm disposition and steady hand made her a capable markswoman, her contempt for guns ensured she'd always be a reluctant one. Garth, dubbed Aussie by Jock to aggravate his overt New Zealand sensibilities, was by comparison, less likely to hit his paper targets than scare them away with the noise of his frenzied, inaccurate shooting. Together with Al-Johor, an Azeri spoken nephew of Sardir, they made up the day's third duo.
"So, what have you found, Hannah?" McKenzie asked, not yet allowing his optimism to rise.
"Well as I said, it may be nothing, but Gregg's sharp, little eyes spotted some unusual scores stretching along the tunnel ceiling to the wall, and they seem to run straight across the general flow of local erosion patterns."
"Man-made then, you suspect?"
"I really can't be certain. It may be a natural exaggeration of fractures in the limestone. But they could have been chiseled, and if they were, to serve what purpose? Why straight to the wall? We aren't definitively detecting a large cavity as such, but there are so many small air pockets within the rock, and with the differing densities within the layers themselves… Well, you know how the machine plays up. Anyway, it might just be Gregg's excitement infecting me, but I thought it worth a second opinion."
McKenzie extended an arm towards the cave, suggesting Hannah take the lead. "Reason enough for a closer look. If we decide there's a chamber to knock through to, we can fetch the Mechano later."
The three proceeded down the arterial cave in single file. Both natural and cabled light fell behind them, as battery power alone enabled McKenzie to view the dismissed tunnels they passed. So many dead ends, he thought, yet couldn't suppress the familiar hope rising within him. His mouth felt suddenly dry and his chest pounded, competing with the rhythmic echo from the tip of the short staff Hannah clasped.
She used the staff to test the ground before them in part, but she would enact the ritual on the most stable ground in any dark, confined space. She developed the habit in Mexico as an early warning to any scorpions, spiders or snakes which may react adversely to being startled. The repetitive thumps grew louder until McKenzie consciously listened to a few beats.
"Stop… Quiet please."
Hannah and Jock halted, each holding their breath. The tapping continued for a matter of seconds, pausing briefly before starting once more. This time, without their footsteps echoing in the cave, they could hear the tapping intermitted with grinding and scraping, then back to hammering again.
McKenzie swore in frustration scrambling to reattach his transmitter, haste thwarting his fingers "Shit. What channel is Gregg? Still four…? Yes? He's trying to knock through without any reinforcement!"
Hannah set off at precarious speed over the uneven ground, covering the short distance past the penultimate junction to where she left Gregg.
McKenzie kept pace, pushing the flat disc-like microphone to his throat, clenching its choker, bunched in his fist. "Gregg, do you read me? Tools down! Stop digging immed–"
With inches separating each of them, they were confronted by a sickening, tearing wall of noise. The blast crashed past them; the sound of rock smashing into rock. An eruption of dust and fine debris followed in its wake. The shockwave nearly felled McKenzie and Hannah, stalling their impetus and staggering them sideways.
Jock, partly shielded from the blast by the bodies of his companions, pushed past them, his shorter frame now an advantage against the initial shock. He howled as he sped by. "Gregg… Gregg…you there, boy?"
McKenzie, ears ringing, launched himself round the last bend to where Jock, barely visible within the dust, was already ripping into a mound of rubble. Taking care not to cause a secondary landslide to the precariously balanced slabs of rock, McKenzie climbed over the mound, shouting to Hannah as he went. "Call Garth and Al-Johor. Tell them to bring the winch, medi-pack, combi-hammer and anchors."
The clatter from rocks McKenzie and Jock cast behind them would have made it impossible to hear any sounds of life from beneath. They still wore ear pieces however, and until faced with insurmountable evidence to the contrary, kept faith these may yet pick something up from Gregg.
While the others dug, Hannah cut lengths of rope and looped them around stable boulders. McKenzie and Jock then worked in unison pulling them while Hannah prized her staff into the resulting opening behind the stone's weight, adding leverage to roll the rocks away.
Ready to leap back at the last instant, McKenzie manned the rope lengths between Jock and the high boulders. His greater height let them keep the rope straight and pull with greater force. Should his timing be off, his legs could be crushed beneath a freed boulder. This realization drew him to regard the sheer size and mass of material piled on top of where Gregg must be. His only chance might be if the slab of fallen roof having wedged itself against the lower wall, created a lean-to type cover, sheltering him from the full extent of the cascade.
Al-Johor and Garth arrived laden with equipment, panting hard. McKenzie set them to task. "Start bringing down the structural channel. We need to reinforce this section in case of a secondary collapse."
The mid-section of the rock pile hardly diminished, but progress was being made in reducing its width and with many large fragments removed, Jock and McKenzie were able to reconvene their burrowing at the sides.
Al-Johor worked with Jock at the winch, shifting what couldn't be done by hand. Unless directly in their path, they dared not disturb any integral parts least they instigate a landslide, filling any voids or air pockets existing within the structure.
"Gregg, do you read? Can you hear me, boy?" McKenzie heard Jock shout, his microphone forgotten as he roared the question deep into the mound. He set about winching a sizeable obstruction from the base of the left wall, but had to stop when the huge slab angled above repositioned itself.
Garth brought to bear the steel struts, jacking them upright into place against the wall under the monolith. As Jock dragged more rock from beneath it, the platform tilted, settling onto the struts and enabling him to complete the excavations. Struggling head first under the slab, he cleared away more shards until stones began falling away at his touch.
"Gregg." Jock choked the name as he scooped at the remaining partition to reveal the cavity.
Empty.
McKenzie saw Jock stop. Not to glare at the empty crawl space or to listen for signs of life. Not in shock or frozen with panic; he just stopped. Slumped on his knees, a long sigh escaped his mouth. McKenzie rounded the slab. Beams of light from their helmets illuminated the dust alone occupying the living space. "Come out, Jock. Come out now before there's another shift."
After a long, deafening silence McKenzie heard the faint response.
"Aye."
Jock made no objection as McKenzie hauled him gently backwards, hands under his arms. His legs pushed out, absently assisting with the procedure. Once in motion away from the debris, Jock kept going, moving a ways back up the tunnel. Hannah made to go after him, but McKenzie stopped her with a gentle hand on her shoulder. For now, Jock was best left to his thoughts.
McKenzie turned back to the mass of the still looming mound, feeling the need to keep moving, needing to distract himself from yet dwelling on what had happened. "Garth, Al-Johor, bring down more strut. We need to brace the walls and ceiling on each side of the collapse. Then we'll clear this mess…clear this mess and bring Gregg home." He pushed from his mind's eye the image of what such a weight of unforgiving rock would leave of a body. "Hannah, would you go to my tent and bring down some blankets please?"
Jock returned along with Al-Johor and Garth, each pulling a hand trolley stacked with struts and fittings. He stayed to help McKenzie assemble the reinforcement while the two younger men left for another load.
Working in silence, lost to their thoughts, in a little over two hours they had the section safely boxed out.
"Right, let's move the rest of this shite." Jock spat the words as he stepped over a lower cross beam. Armed with a crowbar, he started on the remaining heap of rubble. With no longer the same need for caution, he cleared away the top of the debris in minutes. Each time he withdrew the metal shaft in readiness for another stabbing thrust, freed rubble followed. It cascaded down the near slope, landing and bouncing from his hard hat and shoulders as he worked. McKenzie kept a suspicious vigil on the top of the stack, poised to pull his friend back should there be an avalanche.
When Jock stopped working on the debris to catch his breath, a fresh cascade began, originating from the same point as before. McKenzie's interest focused on this area where a third, more substantial shift of debris was displaced.
This time it was followed by a dust encrusted hand, its outstretched palm facing outward from the wall.
Two more shunts and a breach emerged in the wall, exposed as layers of matter were stripped away, four feet from the ceiling.
McKenzie felt the knot inside him reappear, tightening his chest, and he needed to take a few pressure easing breaths before scrambling after Jock to the breach. As McKenzie continued sending rocks tumbling to the ground, Jock reached into the gap, past the quivering hand to clasp a forearm.
"You'll be alright lad, we've got ye. Can ye talk? Is anything broken?" he said.
"No, ah, I mean yes… I'm fine, I think." Gregg's voice trembled. "The wall… It just collapsed… Can you see it? It's unbelievable."
"The wall, lad? The whole bloody mountain damn near came down or your head. Can ye move?"
McKenzie cleared away enough of the blockage to access the new-found, adjacent chamber, from where Gregg scaled the rubble remains of the wall which had collapsed beneath him. He reached into the blackness to feel along both of Gregg's arms. Finding no breakage, he pulled gently, watching the other's face for any reaction. Gregg inched upwards with no discernible sign of distress. Satisfied, McKenzie patted Jock's shoulder. "On three, Jock, we'll take him out of there. Gregg, brace yourself…one…two…three."
Together they hauled Gregg towards them. When his waist reached the top of the mound McKenzie doubled over, levering the linguist free of the wall and on to his back in one fluid movement.
Gregg half managed to stifle a cry, from the movement, sighing with some relief when McKenzie straightened his back.
Jock reached out to help control their descent as, with Gregg's chin on his shoulder, McKenzie slid down the load and carefully piggy-backed the young man up the tunnel to the afternoon sun.
Once free of the cave, the demolitionist examined Gregg, checking his torso and limbs for signs of internal injuries. He completed the fast, professional check, only speaking to instruct his young friend to follow the movements of an index finger with his eyes. "A broken rib and a nasty concussion, but apart from that he's got away with cuts and bruises." Jock straightened from his kneeling position. "You'd me worried for a minute, Frodo. Thought I was gonna have t'make me own tea from now on."
"I was just trying to punch a peep hole through the wall. Well, maybe a bit more than that. Hannah and I thought there might be something behind it… It just gave way… Did you see it all? Did you see it?" Gregg raised his hands to the sides of his head in a clear attempt to stop his head reeling.
"I saw it, Gregg. Quite something. You can have a closer look when you feel up to it."
Jock's expression was a mixture of concern and exasperation, as he handed Gregg two pain-killers and poured from his water flask to fill its cap. "Quite something? Did I see it? I've just lifted half the bloody mountain one stone at a time, near break'n ma bloody back in the process. Of course I bloody seen it!"
McKenzie, excitement shining in his eyes, laughed out loud. "No Jock, not the cave in…the chamber. What we hoped to find. It's here. It is all right here… Hannah, inform Garth and Al-Johor, we're six strong again. Tell them to follow us with all the photographic and lighting equipment. Jock, you'd better stay at camp with Gregg. Needless to say, let him rest but not sleep."
"Aye, sorry Spock, not after a knock on the head like that. But, Mac, are you and Hannah seriously go'in back down there now?
McKenzie looked from Jock to Hannah as she finished relaying the message. "Oh, yes. Right now."
Chapter 3
Rain assaulted the glass with such force, even with wipers at full speed Hassom's vision of the road ahead remained poor. Rivulets streamed along the curbs, pooling where drains to the antiquated sewers were outmatched. He'd been aware of the presence of some pressure working inwards from behind his temples, so when a long distant roll of thunder finally sounded he'd been expecting it for some time. Turning left down a slip road he joined the northbound motorway, when a tone alerted him to an incoming text from forensics.
'Over to you!' The short message from Francis prompted him to call Clements, who answered on the third ring.
"Hassom here. Have you cross-referenced the prints yet?"
"We're running them through the database now, sir. We only received them a few minutes–" The voice filled with static.
Hassom accelerated, though he suspected the poor reception to be due to the severity of the storm, more than his location. The crackle continued and Clements's next sentence was undecipherable. The last signal bar disappeared and the call disconnected as Hassom's car sped past a motorway exit. No definitive destination in mind but with an urge to keep moving, he turned left at the next exit. Met by a roundabout, he glanced again at the phone which continued to display no signal. The third exit from the roundabout led uphill and he steered the Saab in this direction. When three bars reappeared he pulled over and redialed.
"Hello, Sir. We've got a match. Can you hear me?"
"Yes clearly, Clements. Talk to me."
"The prints on the knife, cupboards and, well, pretty much all over the place belong to a Thomas Westbury, age twenty-seven. He's been picked up a couple of times for vagrancy and possession of class 'B' illegal substances. Personal use quantities… Nothing serious. He's got family up north, and used to have a decent job in graphic design for a large advertising company. Must've had a breakdown somewhere down the line because he's been a registered patient at the Spencer Memorial Institute on and off, for the last two years."
"The Spenser psychiatric… You checked if he was there voluntarily or committed?"
"Seems to be of his own accord. There's no record of him being sent down."
"Any fixed address for him now?"
"Hold on… No, nothing on this system coming up since three years past when he stopped working. I'll check the other databases and the housing executive to see if he's being supplied accommodation."
"Right, do that," said Hassom, on reflection adding, "Thanks, good idea… Also, update Chadwell, he'll have started the manhunt, and when an address comes up, get a team sent to keep the place under surveillance. In the meantime tell him to brief and send two units to the asylum…or Institute A.S.A.P. I'll meet them there.
"Yes, sir. I'm on it." Hassom heard, before the call was again cut short.
The Spencer Institute was only six miles or so further in the direction he travelled.
Hassom pushed the car along the winding road. He almost missed the private lane leading into the grounds of the Spencer Institute, and the A.B.S. light flickered when he applied brakes to make the turn on the wet, leaf strewn road. The driveway, comfortably wide enough to permit two cars to pass, cut through a wooded area past sycamores, oaks and horse chestnuts, leaving space between their overhead foliage for rain to fall uninhibited onto the vehicle as it progressed towards the main gates.
Hairs on the back of Hassom's neck rose on sight of the open gates to the old converted manor house. Outwardly curving steps rose between low walls, their summit just yards short of the Doric columned portico where the double door entrance too, lay open.
Fully dressed but wearing a nightgown over his cloths as if to announce his station within the hospital, a man Hassom placed at about forty sat on a small looking garden bench to the left of the portico, overlooking the front gardens and driveway. Its massive occupant leaned to one side, swaying back and forth over a painted, cast iron arm.
As Hassom left the shelter of his car and neared the patient, he could hear him mumbling incoherently to himself. His sodden gown hung open, clinging to the drenched clothes it half covered.
The institute had far from a maximum security status. Not many of the residents would be there under court order, but even the voluntary patients, being the responsibility of the institute would have constant supervision and restricted freedom. The trees surrounding the estate discreetly hid a tall wall, topped with barbed wire and monitored by cameras.
The doors and gates wouldn't normally be left open and unattended. Nor should a patient be left out in the elements alone.
But it was more than this.
Hassom recognized an unsettlingly familiar slow tightening, deep within his stomach and chest. His mood too, or general sensory awareness darkened. He couldn't explain it, but neither did he any longer question the feeling, having proven a forewarning of depravity too often to be ignored. He mounted the steps one at a time, not wanting to alarm the patient agitatedly rocking back and forth.
"Watch your step, mind the step. Watch your step, mind the step," the man's mumbling became more discernible with Hassom's approach, and as the man became more deliberate in his speech and actions. Hassom passed by the institute entrance reluctantly, opting to take time to check with the obviously disturbed patient.
The rain had flattened the man's sparse, red hair, accentuating a grossly oversized broad head. The resulting appearance suggested a standard crop of hair stretched far beyond its capacity, there being too great an expanse of scalp to cover. Everything about the figure dwarfing the garden bench seemed massive.
The man would be maybe an inch short of seven feet tall when standing, with wide set, sloping shoulders and a back which rounded to merge with a thick, bull neck. Even with his uniquely impressive stature, his head still seemed disproportionately large for its body. His eyes, nose and mouth struggled for prominence within the wide, round face. The left eye was distinctly higher and larger than its companion and both stared past Hassom to the stone steps. The broad nose appeared to be both slightly off centre and upturned to show gaping hairless nostrils. Wide, thick lips slanted upwards on one side, towards the more pronounced eye. The disorderly features of the surface seemed to be reflective of the confusion within, like a living Picasso made less abstract, given flesh and bone.
"Worthwhile work, clothes make the man, watch your step, mind the step."
Hassom crouched down in front of the patient before speaking so as not to intimidate him, though the thought struck him as surreal given his sheer size. "Hello. I'm William, William Hassom. Would you like to tell me your name?"
"Steps, steps. Mind the steps."
"I'm a friend… William… You must be cold out here. Are you cold?"
Whereas the man's rocking motion continued, the angle of movement altered to enable him to see past, to the steps where his focus remained resolutely fixed.
"Watch your steps, step, worthwhile step."
Hassom didn't want to upset the man further and could spare neither the time to be of use to him, or to obtain information from him. He considered handcuffing him to the bench until he could ascertain the situation inside, but dismissed the thought. The patient may well harm himself against the restraints and, despite his obvious opportunity he'd shown no inclination towards leaving through the open gates. Turning back to the doorway, Hassom paused before leaving the drenched figure to his gibberish.
"Mind the step. Watch your step."
"Yeah, thanks," he replied, and with an exaggerated movement dutifully did so, stepping up onto the marble floor of the institute reception.
There was no one behind the reception counter. The leather armchairs and settees scattered around the reception area were empty and a quick scan of three offices leading directly off the foyer found them to be vacant also. The reception counter lacked any buzzer or bell to signal a member of staff, so he rapped on the counter. He was reluctant to be found searching the private halls or calling out loudly, this being after all a hospital.
Yet this didn't add up. He'd seen at least twenty vehicles in the parking area to the side of the building, so where the hell was everybody? To this point, he'd tried to quell his growing alarm, but possible, innocuous reasons for the absence of security and personnel were few.
Having just decided there was no option but to call out for attention, he noticed a slight variance to the brightness within the entrance hall. Someone had finally passed through the doorway to attend the reception.
Hassom began to turn slowly to greet the receptionist or orderly who entered, but the footfalls, though soft, weren't in holding with an innocent approach. He recognized in these an absence of instinctive protocol, the sound of hands rubbing together or the gentle clearing of a throat with which someone might announce their arrival. Generally their path too, would lead to one side rather than directly behind, where these footfalls were aimed.
With no time to reach for his weapon, Hassom whipped round, in the same instant widening his stance. His left arm shot up, the forearm tilting down to the elbow as he swept it across his face and into the air above.
He tensed in time to deflect a downward thrust from the cleaver-wielding hand of his assailant. Hassom's free fist cannoned out, finding the soft gut behind the 'mind the step man's' soaked gown.
The blow did little to slow the huge attacker's momentum.
Hassom tried to side-step to his right. The massive inmate, even whilst folding over from the blow to his stomach roared and drove his meaty fist in an uppercut to where Hassom's chin had been a moment before.
The half-complete side-step left Hassom's left leg in the path of the oncoming charge, and the weight intended to crash into him pinned it against the reception counter. He pivoted forward at the waist and clasped, two handed, the back of the enormous head inches from his own. Using his trapped leg to pull against, he brought more than his own weight to bear. Twisting forward and down with all his strength, he worked with the larger man's momentum to smash his face into the marble counter top with a sickening crunch. He felt the pressure fixing his leg ease and drew back.
He had plunged the madman's head into the stone with enough power to split a less thick skull, but the man mountain lifted himself, shaking his head in a motion more bear-like than human.
The man's face contorted in rage and hatred as he prepared to renew the attack, still grasping the cleaver. Closing the distance again, Hassom leaped forward, fast and hard, driving a heel deep into the shallow back of the armed lunatic's knee. He followed through with all his force, crushing the knee cap into the solid, stone wall, audibly shattering the bone.
A deep, almost inhuman, guttural scream erupted from the madman's wide, saliva stranded mouth. He tried to right himself onto his one good leg but lost balance as new levels of searing pain transformed his furious expression to one of oblivious agony and pleading.
Hassom, preparing to strike again, paused.
It was over.
The cleaver clattered against tiles on the far side of the marble counter. Hassom's assailant, now plainly insensible to the weapon or anything outside of his own pain, slumped to the floor sobbing. He reached out to his injury but fell back again, wailing as the movement placed agonizing stress on the ruined joint.
Hassom cuffed the man's left wrist to the ankle of his uninjured leg and ran through the doors leading to the wards. He looked through the open doorways to each vacant room he passed. The small, high windows were of reinforced glass. Perspex sheets covered the wall mirrors, the lighting was recessed and the electric switches were on the corridor wall, outside each room entrance. The doors, though paneled with a wooden veneer, were metal in composition. The walls within were mostly painted neutral, but one wall in each room was decorated with any of a myriad of colors, in many cases personalized with unframed photographs, pictures or poems.
An unlocked security door at the end of the corridor led to an enclave, from which ran two additional corridors. One continued forward, the other jutted to the right. On the left, the enclave opened to a larger area, dominated by the combined nurse, orderly and security station, partitioned off with large Perspex windows.
Hassom first checked the rooms off the corridor to the right, and the communal washing and toiletry facilities they shared. Their sparse furnishings were predominantly fabricated of steel or aluminum and securely bolted to the floor or walls. The thin veil providing a perception of private living quarters had given way to the reality of austere holding cells.
These, too, were presently unoccupied as he now expected, and would have passed them to go straight to the security area, but he carried out the cursory inspections lest someone else with 'worthwhile work' to do was waiting to blindside him. With the benefit of hindsight, the unfortunate oaf had obviously been instructed to guard the outside steps and kill whoever first tried to gain entrance by them. The fewer unexplored places he left behind, the better, he thought, wishing he'd found keys to lock doors as he went. There were too many doorways, too many possible hiding places and too many angles to come at him from while he waited for backup to arrive.
Hassom considered leaving the building to wait for reinforcements but was driven on by his own obstinacy. Without conscious thought, his right hand moved inside his jacket, to wrap around the butt of his Glock 26. He unsheathed and cocked the pistol as he continued down the corridor to where it culminated in a T junction, offering him more cells housed in passages. Traversing the right wing at a jog until it finished in a dead end, he turned and searched the rooms back to the junction.
The remaining corridor veered left. Deducing this would lead round to open onto the security and administration centre, he picked up his pace. Peering into each cell, he noticed how even in the secure wings the inmates had personalized memorabilia on the same fourth wall as throughout the remainder of the hospital. Sometimes pages or posters were taped in place, in other cells anything from animated murals to simple geometric designs had been painted.
Drawing from his own psychological training, he surmised these to have been induced in an attempt to encourage creativity or individuality as a compliment to therapy. Or more likely, as a way of gaining access to unfettered expression for analysis. He sped on round the curving corridor, bringing him back to the nurses' station.
The office looked as though a tornado swept through it.
Desks lay upended, their contents scattered across the floor along with files from emptied cabinets. Hundreds, perhaps thousands of sheets of paper lay strewn across the carpet tiles, mixed with broken glass from smashed monitors lying on the floor.
The adjacent guard room was accessed via a side door connecting it to the nurses' area. A steel cabinet lay open; its locks undamaged. Inside, the shelves and racks were emptied of their dangerous contents. The layout of the racks suggested the unit stored up to six Tasers, with clamping holders for two shotguns. How well stocked the gun cabinet had originally been and who held the weapons now, Hassom could only guess.
As the locks were intact, the safe box must have been opened with a key, so he retained some hope the guards were in possession of the armaments. But then where the hell was everybody? The state of the administration room didn't sustain his optimism, giving stark evidence the security staff lost control of the situation. He lifted a handset from the only phone with its connection lead not ripped from the wall and put it to his ear. No tone. The main line must have been cut. This should have set off an alarm, unless that system had already been disabled. He checked the reception on his mobile phone and contacted the police headquarters switchboard.
"DI Hassom. Authorization, Whiskey-Hector-seven-two-nine-one."
"Confirmed," the monotone reply came back in response.
"Inform all units on route to the Spencer Institute to be prepared for possible armed resistance. We need an armed response team on site urgently. And contact the local station to put out a warning and be on the lookout for multiple escaped felons. I repeat armed and dangerous."
"Christ almighty." The metallic voice returned, now more animated. "Er… That's a positive."
"Understood." Hassom slipped the phone back into his pocket knowing the unarmed officers would suffer a delay in getting equipped reinforcements. All the while his eyes flitted between the large window and the doorway. Another door led from the guardroom directly to an open area outside the window. He tested its handle. It was locked fast. He exited via the nurse's station, having no desire to risk being cornered in the small room.
He pushed through double doors to the right and met yet another corridor. The kitchen, storage room and dining halls opened onto the left side of the passage. Hassom forced himself to steal a quick glance in each to check for occupants, but his attention could not long be drawn from the hellish scene displayed to his right. Framed by this wall's huge, panoramic window through to the recreational area, the obscene display before him made his mind and stomach reel.
Bodies lay everywhere.
Some were stacked like piles of filthy red and brown stained laundry on the floor. Others lay separate from the rest, islands in a sea of blood and gore. More slumped against walls in a sitting position, bent over game tables and desks, or sprawled across the numerous couches in the vast room.
The whole room appeared like a horrific painting, depicting carnage on a sickening scale, framed by the window and impressionistically created from a pallet composed purely from shades of red. The effect was presented by the entire window, smeared and splashed from end to end, top to bottom, with blood. Florescent tubes providing light to the human abattoir buzzed and flickered, presenting gruesome still shots to the auditorium the corridor had become.
The bodies mostly remained bedecked in the clothes they wore in life; a mixture of casual attire, uniforms, nightwear, suits or formerly white overcoats. Others were naked, retained partially torn underwear or sheets, half covering their corpses. Strips of ripped material and discarded garments hung from the deceased and furniture alike or lay crumpled on the ground. Like rag mops they soaked up but a fraction of the slick of blood which spread out from each body to merge together, swamping and concealing the polished porcelain floor. The white gloss walls appeared sickly pink through the glass, and darker lines stretched up from the floor, forming shapes and designs. Some of these Hassom recognized from the decorated walls of the cells. He'd need to ask Chadwell to enlist a specialist on cult symbology. Others were simple, crude depictions of male or female genitalia and what he took to be, spontaneously scrawled graffiti.
A sodden trail made from mingled, bloody footprints denoted the path taken by the instigators or survivors of the massacre along the corridor to the kitchen. The congealed track thinned as it made its way to the delivery entrance, from where they evidently made their escape.
Hassom reluctantly opened the door to the recreation area, quickly deciding, unless he heard or saw some sign of life he would not enter. There existed no way to walk into the room without stepping in clotting blood, confusing the footprints and disturbing evidence.
The bodies he saw, now amongst them, were obviously dead, their decapitation leaving no closer examination necessary. Many others were hidden, in part at least by the furnishings, or buried beneath other corpses. He realized with a degree of self-contempt, as he stood rooted in the doorway, he wasn't actually hoping to see a movement or hear any sound of life to draw him further into this slaughterhouse. He hardly expected anyone to have survived this horror, but felt a prickling shame at not willing it with all his being. Guilt forced him on.
Disturbing as little as he could, he weaved around the carnage. With every step forward he heard and felt the mess sucking…clinging at his shoe. He regretted not wearing boots instead of his slip-ons. If his foot slid out of a well stuck shoe or he slipped, to fall amid this sludge…he doubted he'd be able to hold down his stomach contents or quiet the part of his brain where he stifled a scream: a scream which once begun, might be difficult to end.
The sight and stench assaulted his senses, and several times he stopped, closing his eyes and swallowing hard, to regain his composure before continuing his inspection of the mutilated dead. In the dimly lit back of the hall, two tables were pushed together to hold something, which from his distance he mistook for one of the many shapes and symbols smeared on the walls. Given perspective with his approach the shape protruded from the wall to present itself more fully. He could define hair, teeth and eyes staring out from the pyramid of heads centered in the joined tables.
Hassom's own head swam as he tried to stay focused.
An irregular pyramid; one, two, three… Seven severed heads across at the base, maybe five deep and six tiers high.
How many in all? His concentration left him. What if some heads were larger than others? Oh sweet Jesus, this was crazy. How many heads were staff, how many were patients? What ratio of staff to inmates would there be in a secure hospital on any given day? How many patients would that mean escaped?
For no reason Hassom started to recall brain teasers from his schools days. If a train travels at fifty miles per hour in the same direction as a thirty mile per hour wind, to a destination twenty miles distant… "Shit. Get a fucking grip of yourself!" he said aloud, giving his reeling head a shake, before purposefully breathing in through his nose and out through the mouth in slow, controlled breaths whilst trying to ignore the stench.
"A-a-ah."
More clear-headed, he returned to surveying the crime scene.
"A-a-ah."
Hardly audible, it took Hassom a moment to appreciate the sound was real; another to realise it wasn't of his own making. It emanated from the direction of a mound of headless corpses to his right. Keeping low, to move quickly yet minimize the risk of slipping, he rushed over to the source of the noise.
"A-a-ah!" The muffled cry came from deep within the tangled bodies.
"You're safe now. I'm with the police." Hassom grasped the belt on one body with his right hand and hooked his left under an arm, lifting the top corpse swiftly to one side. Its cross-sectioned neck bubbled with the movement but he paid no heed as he pulled another body from the pile beside it. His revulsion and the churning in his stomach were temporarily suppressed, superseded with the need to help another "Are you injured?"
No answer came, but when he lifted a third bloody corpse from the pile, Hassom could see a quivering hand reaching up between two other torsos. Four more bodies were carefully but rapidly removed before he could make out a young woman underneath the last of the carcasses, the combined weight of which pinned her to the ground.
"Gn-a-ah." Her mouth opened like a wound in the mess of congealing blood, thick on her face.
Hassom turned over the final two bodies and took her small hand in his, softly repeating the question and willing any hint of tremor from his own voice "Are you injured?"
"Mmmh, mmmh." The young woman shook violently, seeming unable to speak.
Hassom had no idea whether she understood him while he gently checked her for injuries, but nonetheless kept up a constant soothing repertoire. So much blood and matter clung to her, it was difficult to surmise her own condition. The headless corpses piled on her had drenched her in bodily fluids. While unable to move beneath the literal dead weight, blood pooled to gel in the concaves of her features. Her eyes were glued shut with layered, drying blood which Hassom thought best not to remove until he got her away from the carnage. Better she remain blind to any further exposure to the gruesome surroundings.
"I'm going to lift you up now and take you out of here. Okay?" Not waiting for consent he scooped her up across his chest and made for the corridor as quickly as the slippery floor would safely permit. The most direct route from the building was through the kitchen but, forced to holster his weapon to free his hands, and slowed down carrying the slight female, he couldn't risk following the footprints in this direction. The monsters who did this could be long gone, but Hassom assumed nothing and chose the shortest path possible back to the reception. The handcuffed inmate still lay immobile; unconscious, sleeping or dead. Hassom gave no thought to which.
Cradling the woman in his arms outside from under the portico, he offered her face up to the warm rain as he descended the wet steps.
"No…a-ah…. A-a-ah!" The woman's terrified wail built to a scream.
Hassom cursed his thoughtlessness. "It's just rain. We're outside. It's raining and you're safe. I'm going to set you down now, alright?"
She must have understood him on some level, as he felt some of the tension leave her rigid body and the scream faded. Setting her on the ground beside his car, he propped her head and shoulders up and wrestled off his coat to cushion her head. "Let's clean you up, now you're safe," he said in a soothing tone.
Using a sleeve, he caressed her eyelids free of the partially caked blood, now softened by rain. After a moment's hesitation she tentatively blinked her eyes open and sat up to wipe away the remainder of the crusted residue.
She looked up, warily measuring Hassom.
He noticed her dark blue and steel-grey flecked eyes. The whites surrounding them were perfect in their clear hue, accentuated by the crimson darkness over the rest of her face. The enlarged pupils and exceptional purity of the whites of the eyes were clear symptoms of shock, but there was an innocence in them that made Hassom react with a rare smile.
Trying to compensate for her inevitable emotional fragility, he spoke as if to someone much younger. "Hello there. I don't believe I've introduced myself. I'm William… William Hassom. You can tell me your name if you like." For a disconcerting moment, he recalled saying almost exactly the same thing to the man guarding the steps, a short time before.
The young woman looked quizzically at him for a second. She had difficulty in forming a word and when her voice came it was husky and hoarse. "Jen… Jenny."
Hassom continued softly in reassuring tones as he stood to scan the grounds for danger or signs of movement. He thought her trembling lessened now but wished he had a blanket for her. The rain was persistent and he needed to keep her warm. Re-entering the hospital was out of the question, he thought. After her ordeal she would feel less claustrophobic out in the rain than sitting in the car. He thought to hold her close, sharing his warmth, but in her vulnerable state this may be misconstrued. Hell, it might even frighten her.
It came as no small relief then, when preceded by blaring sirens the first squad cars arrived, accompanied by an ambulance. "Here comes the cavalry," he said, offering an involuntary, silent prayer of thanks for the small mercy. "You'll be fine Jenny. You'll put this all behind you. I know you can't see that just now, but you will."
Jenny didn't reply but looked up into his face, as if wanting to believe. When two paramedics rushed over, Hassom informed them of her condition without any graphic detail as to the cause and let them take her away.
When asked whether she was a patient, a visitor or one of the hospital staff, he was surprised he could provide no answer. He hadn't thought to ask. Her ruined clothing put him in mind of a patient, but he couldn't be certain.
He stood watching the ambulance speed down the long drive until lost to the trees, before he turned to brief his approaching colleagues. As far as he was concerned, the next paramedics to arrive could tend to the man sprawled out by reception. He sure as hell hadn't been about to allow anyone to give medical priority to him over the traumatized girl.
Demiurge
Blood of the Innocent
is available in
kindle,
e-book,
and paperback format from: