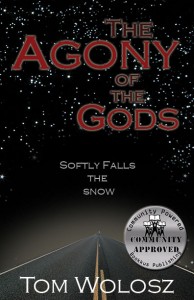 Now that you've read the book, tell us what you think.  Are you eager for a sequel?  Just PLEASE if you are giving away any details place a SPOILER ALERT note at the top of your review.  After all, you don't want to spoil it for others, now do you?
"This author is absolutely captivating. Emotion, suspense, fantasy. Everything a great book needs. I would like to read more works from this author and highly recommend this one." -Ellsie Brooks, reviewer on Bookkus
Here are some reviews from Amazon:
By MRose on February 4, 2015
Two terms come to mind when trying to describe "Agony":Original: As an avid reader of many genres I am pressed to come up with any title with similarities in plot/character development/world building to this book. It's refreshing to read a story I haven't read before and delve into the workings of a wholly new realm! The author has created not only a different world for readers, but fresh "sci-fi" concepts as well. I found myself more intrigued with every world visited – I couldn't wait to see what twisted new fantasies (and in many cases, extremely depressing fantasies) the gods had in store for us.Thought Provoking: Again, unlike many popular books I've read recently, this book requires the reader to think. There is so much more to this novel than a simple "who dunnit?" The relationship between the main characters is intricate and, in many cases, I found it troublesome deciding which of the main characters I agreed with the most; a process I greatly enjoyed, especially when it came to the ending.
That being said, I enjoyed this novel and found it was hard to put down; the author did a wonderful job of creating muted suspense and tension between characters. I recommend this novel for those who are ready to move beyond the thoughtless bestseller drab and onto new worlds and new ideas.
The Agony of the Gods was an impressive book full of descriptive imagery, believable dialogue, action and suspense. Once I started reading the book, I could not put it down. I prefer books that make me think and this book introduced some new ideas that made me wonder about my world view. It was a smorgasbord for the senses. Totally enjoyable. Well written and well done.
Different…and excellent.
February 8, 2015 By 

GrouchoMarxist "Brooklyn Corvid"

(Brooklyn, NY, USA)
Tom Wolosz's first novel is a genre-defying triumph that keeps the reader guessing until the end, and certainly makes one think. I'd have to define it as futuristic mystery more than science fiction, but trying to pigeonhole it trivializes it to some extent. It's literature more than pop fiction, making a statement on human nature that is, sad to say, timeless. It's a stunningly imaginative, intelligent debut by an author I hope to read more of in the future.
It's tough to invent a science-fiction universe from scratch, and tougher still to make readers care about the characters in that world. Usually writers pick one, intentionally or not. But the emotional guts of "Agony of the Gods" succeeds in both. Moreover, many of the characters are god-powered super-beings. (They experience the "agony" in the title.) This one's definitely worth giving a shot.