[Disclosure statement:  I've know Mike Hagan for a few years, having met him through Book Country where we helped each other by commenting on early drafts of our writing.  Since then Mike and I have both had books published by Bookkus Publishing.  When I decided to start reviewing books (gives me something to write about), I decided I would like to concentrate on new writers, and Mike was the first who came to mind.  I picked Mike not because he's a friend, but because his book is so good.
I promise you, I'll never give a book a review it does not deserve.
–          DocTom]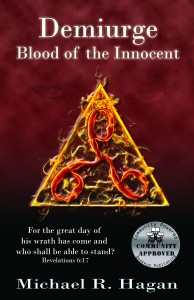 Demiurge, Blood of the Innocent, by Michael R. Hagan, 2013, Bookkus Publishing 354p.
Demiurge, Blood of the Innocent is a paranormal thriller that marks Mike Hagan's first book publication.  The book grips you right from the opening scene – arrival of police at a horrific murder scene – and carries you along at a good pace throughout.  I have read this book three times and enjoyed it immensely each time.
Hagan switches back and forth between two main characters: Detective Inspector William Hassom, a strong, yet oddly vulnerable man driven to solve a gruesome case by the need to prevent the repetition of such horrors; and Professor James McKenzie, renowned archaeologist, at a dig in Iran where he searches for a strange mystical symbol and the history associated with it.
That odd triangular symbol brings these two men together.  Hassom has found it at a mass murder site, while McKenzie has traced its appearance throughout history from archaeological sites pre-dating Christ by thousands of years through the evil of World War II.  Is this coincidence, the work of some secret society playing with mankind's destiny throughout the ages, or the work of something even more sinister?
Hagan displays the best characteristics of a top notch writer. He has a great way with characters – you believe each and every one of them to be real people, from hard-boiled cop, to politician, to upper class academic.  He also describes his scenes so well that you feel you are there, and his grasp of history and presentation of historical events will have you swearing he's a Professor of History.
Played against the background of a Great Britain, torn by an immigrant and environmental crises, where politicians grasp for power without realizing they are being manipulated, Hagan carries you along, gradually revealing more and more of the insidious plan behind the symbol.  I don't want to give away too much here, it's all too good.  Just let me say that when I was first reviewing Mike's book on Book Country my plan was to read a chapter, take notes, then read another.  Instead I found myself unable to put the book down – and that was an early draft!
So if you enjoy paranormal thrillers, I highly recommend Mike Hagan's Demiurge Blood of the Innocent, and even if you're not particularly into the paranormal you should still read it – it's a great book!
You can read the first three chapters here.
Read my interview with Mike Hagan (coming soon).