Hello All,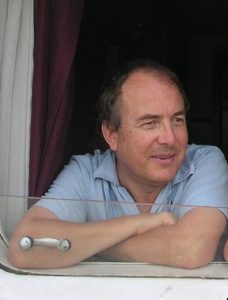 Today's interview is with Curtis Bausse, author of the Magali Rousseau mystery series (One Green Bottle and the recently published Perfume Island both reviewed by me here) and editor of the Book A Break Anthologies (With Our Eyes Open and Cat Tales also reviewed by me here).  I contacted Curtis by e-mail and conducted the interview over a number of days.
DocTom: Hello Curtis, congratulations on the publication of "Perfume Island".  So why don't I just let you introduce yourself to our readers.  Who exactly is Curtis Bausse?
Curtis:  Hi Tom, and many thanks. Who exactly am I? Wow! That's the sort of question that in my youth would have sent me into a chasm of existential doubt. Where does my sense of being me come from? How can I even know that I am who I think I am and not a brain in a vat being fed the impression that it's Curtis? Actually, the answers to such questions are probably more interesting than the one that, now that I'm a lot older and marginally wiser (maybe), I generally give: a Welshman educated in England who's spent most of his life in France, some of it running a restaurant, some of it as a teacher in the University of Provence, and the last couple of years of it retired, enjoying the chance to do even more of what I've done with rarely a break these past four decades – write.
DocTom:  Since a writer's life experiences always shade their work, what did you teach? And how well did that reflect your University education?
Curtis: My main teaching and research was in Second Language Acquisition, with special focus on the context I was in, French learners of English. I studied French in England before leaving the UK, and then psychology in France. After which I started the restaurant – very logical, n'est-ce pas? Actually, the aim was a café-theatre, which did eventually emerge, but the money was made from food (what a surprise). Then the premises were demolished, so I went into teaching and did a PhD in psycholinguistics. Looking back, it now seems very coherent: literature, language, psychology – all are linked, and come together in writing. I just need to add the food – maybe I'll write a cookbook one of these days.
DocTom: Wow, now I understand how you came up with "Life is a Journey" as the theme for With Our Eyes Open the short story anthology you edited.  I've also read through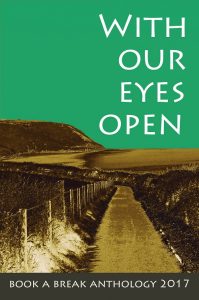 your collection of essays, Making a Murder, but you did such a good job with the serial killer in One Green Bottle I would have thought you specialized in abnormal psychology.  How'd you come up with the personality profile for your killer?
Curtis: I did work briefly with psychotics, but found it a bit too frazzling to pursue as a career. But the quirks of the human psyche have always fascinated me, including the capacity to commit atrocious acts. Serial killers in fiction are often portrayed as depraved or evil – more monster than human – and I wanted to avoid that stereotype. I recently read in an article by psychologist David Buss that 91% of men have had a clear fantasy of committing a murder. I hadn't read that when I wrote One Green Bottle, but it chimes with what I wanted to do, describe the passage from the fantasy to the act. The killer isn't a monster at the outset, but once he's committed the act, he finds he can't stop, despite the torment it causes him. He becomes monstrous, but we also see him as a loving father and husband.
DocTom: Interesting, but I must admit when I got to the scene of the killer, knowing that he would soon be caught, contemplating killing his family, my skin crawled, sure he would go through with it.  I wonder if that might be due to cultural differences on either side of the pond.  In the US murder/suicides are not uncommon.  Is the situation different in Europe, or were you just aiming for a different conclusion?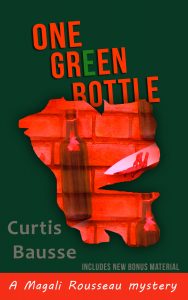 Curtis: The second, I think. Not just to upset the expectation, but it was more in keeping with the character not to be able to go through with it, despite his previous acts. We don't have statistics, of course, about how many men (it's nearly always men) intend to kill their families but don't – it may be more common than those that actually do. But there are no doubt cultural differences too. In Europe, whilst understanding the historical reasons for widespread gun ownership in the US, most people are baffled at America's inability to reform the gun laws. Though that's an issue that goes beyond the specific case of family killings. Your question prompted me to research a bit more – anyone interested can find an insightful analysis of family murder here.
DocTom: So let's talk about your other (good) characters. Why a female detective or main character?  I think that men writing stories with female leads are becoming more common.   Why did you do it?
Curtis: Some years ago, a novel of mine was turned down by an agent as being 'too Chandleresque'. And I think even now I'd find it difficult to escape from the shadow of Philip Marlowe – he had such an influence that whether you make your character similar or consciously strive to be different, he's still there. With a woman, I had no such influence bearing down. Yes, there's a bit of Miss Marple, but no more than a nod in that direction. And once I'd made the decision, Magali came to me easily. Indeed I found it liberating to write a character who is, obviously, very different from me but at the same time shares the common experience of being human. There's overlap, but also a new psychological space to explore – a process I find exhilarating.
DocTom: I fully agree about Marlowe. I don't read all that much in the mystery/detective genre, but I have read all of Chandler's work.  Marlowe's tough, but somehow also vulnerable. While Magali isn't what I'd call physically tough she is also vulnerable and conflicted.  I can see you've done a lot of work developing the character, including producing letters written by Magali (found in Making a Murder). Tell me about her and how she developed in your mind. Was she a complete character before you started writing One Green Bottle?
Curtis: At the outset, she was based on a neighbour whose life went into free fall when her husband abruptly left her. You could say that's hardly a difficult situation to invent, but I like to start from something I've observed, sometimes no more than a physical detail, and then embroider. In this case the reality provided a solid foundation from which to develop Magali, though she naturally gained in depth through successive drafts of the novel. And because it's a series, that process continues, though it doesn't all end up in the book. In that respect, I adhere to Hemingway's idea that you can omit a lot about your character as long as you know it yourself. But I didn't really delve into Magali's past until I finished One Green Bottle, when it struck me that she'd been stuck in a dissatisfying marriage for a long time, and I wondered how she'd coped. The letters in Making a Murder belong to the answer to that – there are many more letters, some finished, others as notes, which cover that whole period, and explain both her tenacity and her doubts.  And of course, there's always something of oneself in the characters one creates – I'm certainly no stranger to self-doubt.
DocTom: Yes, Magali does endure bouts of self-doubt, especially when it comes to her relationship with Charlotte in Perfume Island.  Truthfully, the revelation of a relationship between Magali and Charlotte at the end of One Green Bottle caught me off guard – I really had not seen it coming.  What made you decide to move the characters in that direction? Were you already planning Perfume Island?
Curtis: A sequel was certainly planned, though I didn't know it would be set in Mayotte (Perfume Island) because at that point I didn't know I'd be going there. But whatever the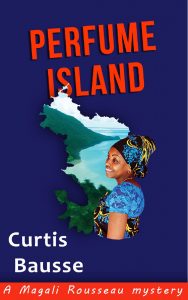 sequel, Magali's relationship with Charlotte, barely hinted at in One Green Bottle, was going to be fairly central. Why go down that path? Well, I was half way through writing One Green Bottle, discussing it with a friend, and he said, 'You know what? It'll be even better if you make Magali a lesbian. It's very trendy, you know.' (I don't know where he got that from, but we'd had a bit to drink at that point.) So you could say it was for the worst of all possible reasons: persuaded by a drunken friend to follow a so-called fashion. With hindsight, though, I'm very grateful for the suggestion – Magali's confusion about her sexuality adds an extra layer which gives the book more substance. I've been careful to steer clear of the LGBT genre (which I know very little about), and I've had very positive feedback from a lesbian writer for the way the theme is handled. So although it wasn't planned right at the start, it feels like a natural development, following on from a dissatisfying sex life during her marriage.
DocTom:  Speaking of natural development, which book – One Green Bottle or Perfume Island – was more work for you?  One Green Bottle emphasized character, while Perfume Island offers a more complex plot. Were there places in either where you found yourself struggling with the writing?
Curtis: There's always a struggle at some point. Many, in fact, at the level of individual sentences or paragraphs. Sometimes I'll grapple with a paragraph for ages, only to delete it entirely the next day. But I dare say that's the common lot of writers. As regards plot, I've come to appreciate the value of planning, which I did much more for Perfume Island than for One Green Bottle. I did a lot of research into Mayotte even before going, and although I made a couple of major changes to the plot as it developed, I think it was actually the easier one to write. That was also due in part to knowing the two main characters very well already.
DocTom: Now this is going to be the moral equivalent of asking a parent which of their children they like best.  Which of your two books – One Green Bottle or Perfume Island – is your personal favorite?  And why? No hedging allowed on the answer!
Curtis:  Ah, that's tough! No hedging? All right, I'll opt for Perfume Island, by a whisker. I think it does a decent job of portraying a complex political situation without being laborious about it – it's woven into the plot bit by bit. In sheer numbers, of course, the migrants in Mayotte are only a fraction of the problem facing Europe, but one aim was to raise awareness of the issue, and hopefully I managed to do that as well as entertain. So in that respect it's rather more ambitious than One Green Bottle, which sticks with the serial killer trope.
DocTom: I agree, I thought you did a great job describing the situation with the migrants. It was always in the back ground, hovering over the main plot, not distracting, just adding to the reader's awareness of their troubles. So what are your future plans for Magali? Have you plotted out book 3 yet?
Curtis:  Yes, Mystery Manor is nearing the end of its third draft, a stage I like because it's when the details start to fall into place and the way it will look in the end becomes a lot clearer. That doesn't mean all doubts are dispelled – I still get the occasional stab of panic that the whole edifice won't stand up to scrutiny. But it's getting more solid and as it does, my confidence grows. Book three marks a departure from the others, where Magali's was the sole POV – this one has several. It also has more of a thriller element, and in some respects is darker than what went before. If all goes well, it should be released in September.
DocTom: September? I'll be looking forward to it. How can reader's get a notification when it's about to be released?
Curtis: Ah, that's the whole marketing challenge! I'm afraid there won't be a nationwide TV campaign, but I'll be announcing it on the usual outlets: blog, facebook, twitter, as well as my newsletter. With each release, word spreads a little further, but there's still a long way to go. It's not so much a matter of finding readers – there are plenty who'd enjoy the series – but of getting them to find me (or rather Magali). These days marketing is just as important as writing itself, and though I can't say it's quite as enjoyable, I don't entirely dislike it either.
DocTom: Hopefully, this interview will help a bit. Right now though, I'd like you to take off your novelist's cap and put on your editor's.  Tell me about how you got involved with editing With Our Eyes Open. Was this your first editorial work?
Curtis: These past couple of years, I've run a short story competition, with the prize being a short stay in Provence, where I live. I didn't initially have the idea of an anthology but the number and quality of the submissions led me to think it would be a shame if the best among them didn't reach a wider public. The first anthology was Cat Tales, the second With Our Eyes Open, both of which I took great pleasure in compiling and editing. It's a lot of work but worth it for the satisfaction of seeing the end result, and one learns a lot in the process. This year's competition has the theme of 'nourishment', so there should be another anthology to emerge from that. The proceeds go to the Against Malaria Foundation.
DocTom: "Nourishment?" Sounds an odd, yet provocative, theme. When's the deadline for submissions and where do they get sent? And also, where do you advertise this contest?
Curtis: The 'nourishment' theme for this year's competition was because there's a lot of food in Mystery Manor, though I hope submissions will consider other forms of nourishment too. The competition details are here:
http://www.curtisbaussebooks.com/win-a-holiday-in-provence/
The deadline is 28th January, so it might be a bit tight.
DocTom: This has been a great interview Curtis. Is there anything you'd like to add, or say to our readers about writing, editing, or any other thoughts you may have?
Curtis: I once did a little satirical piece about a man making matchstick models in his garden shed, sticking them together match by match, some of his more ambitious works taking years to complete. No one ever came to see them, but he couldn't stop – it was a compulsion. The comparison was clear of course: the matches are sentences, the models are novels, and the shed is the writer's desk. So yes, it's a strange thing to do, isn't it? But as any writer will tell you, it's impossible to stop. And there's no more satisfying experience than putting those matches in place, stepping back and seeing you've got it just right. In many ways, that in itself is enough, but my modelist would have been even happier if someone came along to see what he had on display. If they do, there's a chance they'll not only like it, but tell others too, just as you do with your interviews. So my final word is a big thanks. Magali Rousseau and I are very grateful.
DocTom: And a big thanks to you for the interview!
You can read my reviews of One Green Bottle, Perfume Island and With Our Eyes Open by clicking on the titles.
If you'd like to subscribe to Curtis' newsletter (it's free) or download a copy of Making a Murder  (also free) in which Curtis discusses a lot of the back ground of One Green Bottle then go to http://www.curtisbaussebooks.com/.
Last, all of Curtis' Magali Rousseau series is currently available at Amazon.