Hello all. Today's interview is with R. F. Bruce, author of The Life and Times of Dinah Marton. (Before reading the interview, you might want to read my review of the book first. Read it here.)
About R. F. Bruce: Although Bruce is an avid writer, professionally he is a video game design instructor for a local high school in Florida. His passion for design stems from his desire to immerse the audience in a world so compelling that they have a difficult time returning to reality. In his teachings, he works diligently to inspire young minds to express themselves through compelling storytelling and as a result, many of their designs have won awards; sweeping the board in the Seminole Emmy Awards two years in a row. When Bruce is not designing a game or writing the next chapter in a book, he delights in raising exotic animals; taming them to be as docile as common house pets.
DocTom: Welcome Bruce, After reading Dinah, I've been looking forward to speaking with you.
Bruce: Thank you for having me Tom, it's good to be here.
DocTom: I like to cut right to the chase, so my first question is where did you get the idea or inspiration for The Life and Times of Dinah Marton?
Bruce: Oh geez, where to begin. First, I have to say that the character and the story evolved along two separate tracks. Dinah has existed in my mind since I was about twelve, and she's had many lives. But always the same core personality along with certain elements like being adopted and pursuing a career in psychology. This particular story, however, started as a short story writing assignment in college titled The Lady D. I was actually working on a science fiction novel The Guardian Chronicles at the time, which I'll be publishing later this year. It's sad to say but I didn't want to write anything that was important to me for fear of it being ripped off and I didn't know what to write for this assignment. I was watching my favorite episode of Dexter entitled Shrink Wrap where there's a killer psychologist. A light went off in my head, and I started writing. The short story was a few pages long and covered who she was, her first kill, and why she became a killer. After submitting it, I felt very uncomfortable and wrote my college professor a letter of apology because of how graphic it was. He replied, "Don't worry about it, we're all adults here, and it might make a good book someday."
DocTom:  So Dinah's been with you for a while.  But where does Dinah come from?  Not the story, but the character.  She seems more complex than what I'd expect in the usual crime story.
Bruce: I was always a very imaginative child. I really disliked reality. Whether at home or at school, I spent most of my time in my head and I would assimilate characters from movies or shows to fill the world I had created. Dinah is no different. She came as a result of a crush I had on Kate Maberly; a young British actress at the time who starred in a few American films. In The Langoliers Kate played a character by the name Dinah and it stuck. As time went on, my incarnation of Dinah grew and evolved; taking on a life of her own as I lived through mine. She has literally an entire history full of friends, family, and a career. In my head, Dinah has been a part of many adventures and through them I've grown to know her quite well. For years, I wanted to write her into a story because of how much life she has but it wasn't until The Life and Times of… that Dinah started clawing her way to the surface, demanding to be heard. It probably sounds strange, but the story is hers. I just wrote what she had to say.
DocTom: But how do you view Dinah? Think of it this way: If you were a reporter interviewing Dinah and she told you her story, what would you think of her?  I mean here we have this smart, self-assured young woman with an advanced degree in psychology who sees nothing wrong with killing people. Where do you think that came from?
Bruce: Well, she's a sociopath. That's the simple answer; however, I don't really think she fits that bill even though she has a skewed moral compass. But, that is just this incarnation of her and I know all of them. It's like what Dr. Schreber said about John Murdoch in Dark City "You've had dozens of lives before now. This business of you being a killer is an unhappy coincidence." To me, she is more than the mere sum of the words on the page. I suppose from a reporter's perspective I'd view her as a fairly sane individual who has grown accustomed to making insane choices. Not always because she wants to, sometimes because it's necessary. I think that is what makes her so fascinating; she allows us to explore that part of our own psyche from a safe distance.
DocTom: Yes, I definitely agree with you there.  But now tell me about another character in the book.  Dinah so dominates it that, as a writer, I wondered if you had a second favorite character, if so, who it was, and why?
Bruce: Now that's a tough one. Apart from Dinah, I'd say, Andy. I relate to him more than the others. Plus he's getting his own book.
DocTom: Really?  A prequel or sequel to Dinah?
Bruce: Prequel. It covers Andy's life in the military from boot camp to when he got into the business with Luis. If Dinah makes an appearance, it will be more of a cameo that brings the two stories full circle.
DocTom: Interesting. Now I think you had mentioned to me in an earlier correspondence that there was also going to be a Dinah sequel.  How far have you gotten with these two works?
Bruce: Perhaps a spoiler alert should be in effect? It's true, there is a sort of sequel. I prefer to call it a follow-up because it's not a continuation of the same story. Instead, it is a new story with the same people. The working title is Limbo: Imprisoned in Paradise, if that gives any hint into what will be happening. It takes place immediately after Dinah's "execution". The book is close to three-quarters finished. One key difference is the style of storytelling. Unlike The Life and Times of Dinah Marton, which is told entirely from Dinah's point of view, Limbo follows a more conventional approach by presenting multiple perspectives in the present-tense. As for Andy's story, it still has some ways to go with only about two or three chapters finished.
DocTom: Well, something to definitely look forward to.  But you mentioned a Science fiction story coming out soon. Tell me about that.
Bruce: The Guardian Chronicles is a science fiction trilogy that I've been working on since 2003. I won't go too far into it because I'm a little paranoid. To give a frame of reference, I refused to watch the Guardians of the Galaxy when it came out. I was that upset. But now they're close enough to being published that I am planting the seeds a bit. Part of the reason it's taken so long is continuity. I started writing the third book first and then decided to go back and write the other two. The trick is, however, that all of the rules have to be laid out and be consistent across the series.
DocTom: Yes, continuity is extremely important when creating a sci-fi world.  So this is a good way to transition into another important topic — writing.  How do you maintain continuity in your stories?
Bruce: Now that's a loaded question, haha. I write using a couple of different methods. The best way, in my opinion, is to take part or be an observer of the event in my mind and write what I see, hear, smell, etc; whichever is relevant to the situation. From there I generally write first and critique later. Sometimes I can bust out a chapter or more a day; other times, just a paragraph or two a week. And of course, there are times that I'll write chapters out of order. It depends. Such was the case with Dinah. I wrote the first few chapters and last chapter before the middle. Then I worked to fill in the gaps. I'll often leave myself highlighted notes or reminders if I need to come back later. After I come to a stopping point, I'll critique what I've just written for spelling, grammar, and consistency. I go through an entire process that sometimes takes days or weeks to hammer out. I'll ask myself a series of questions:
Does this work with the previous chapter, section, or paragraph?
Does with work with what's supposed to happen next?
Does this character's actions, emotions, or dialogue fit his / her personality in this given context?
Does this move the plot forward?
Is it necessary?
If any of these are a "no" then I edit; keeping what works and cutting what does not. An example was (SPOILER ALERT) when Dinah started to fall in love with Billy. I never intended for that to happen. It just sort of happened as if Dinah had taken the pen and written it herself. I remember feeling the emotions as it was unfolding and being overwhelmed by what was happening to the point where I had to get away from it. I literally stopped and said "Wow." Because it wasn't planned, and it took a few days to evaluate whether or not it was going to stay.
DocTom:  That's an excellent list of things to consider, but how do you keep track? The Life and Times…was a long book, but I detected no continuity problems, which is a major achievement.  Do you keep a notebook?
Bruce: A notebook? Lots. I wrote Dinah on everything when I wasn't near a computer. I have a box full of receipt papers with whole chapters scribbled on them. Surprisingly, though, Dinah was easy to keep straight because it's a pretty grounded story. So, the only things to really keep track of were character moods and behaviors. I did, however, write a detailed timeline laying out the events of the story, and there are four different versions or drafts of the manuscript. So, rewrites did happen. Now with more complicated stories like the Guardian Chronicles where characters have god-like powers, I wrote an outline for each creature or character with rules defining how their powers work so I don't have a situation like WB's Flash where he can run at Mach 7 but is only sometimes faster than a speeding bullet.
DocTom: Details, details! How much of this comes from your training in game design? Or does the game design come from the writing?
Bruce: I would have to say that game design comes from writing. The irony of that is, as a kid, I wanted to make games but it wasn't until much later that I got into writing. It was actually story-based games which fueled that passion. Then in college, I took creative writing courses.
DocTom: Are you working, or have you worked, on any games?  Which games are your favorites?
Bruce: I was a level designer right out of college for an online company but nothing major. As for my favorite games, Mortal Kombat is really what pulled me into the gaming world but it was Metroid, Castlevania, and the Legacy of Kain series that kept the passion alive.
DocTom: Interesting. But now I have one more question I want to ask – exotic animals, how'd you get started raising them?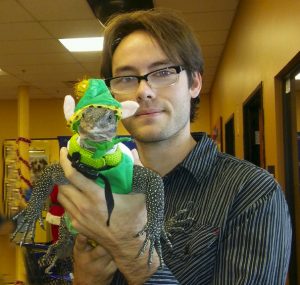 Bruce: I grew up with odd critters like mice, snakes, frogs, etc. But it wasn't until I started working for a reptile specific pet shop that I got into monitor lizards. I suppose the love for them comes from my childhood dream of having a pet dinosaur–what kid didn't? And of course, I always wanted a velociratpor, thanks to how awesome they were in 1993's Jurassic Park. The peach throat monitors I raise are very slender and look quite a bit like my favorite dino. My ability to tame them helped the store and naturally, fueled my own hobby. An interesting side note: I do a lot of hand-feeding and I click my tongue as a means of communication with them so it was a delight to see the raptors in Jurassic World being engaged in similar manner.
DocTom: Wow, that's really interesting, and you're right, we all dreamed of dinosaurs as kids. That's one of the reasons I went into paleoecology.
At this point I think I've now covered pretty much everything I can think of, so it's your turn. Is there anything you'd like to tell our readers?  Have a WebPage? A blog?  Feel free to add anything you like.
Bruce: No blog as of yet, but there is a Facebook page here. I am slowly building a web page for my works at http://www.brucebooks.us there is no front page at the moment but Dinah has a spot here and I will be posting alternate endings, edits, and such for fans of the story. Also, don't forget to look for The Guardian Chronicles: Path of the Guardian, to be released later this year.
Thank you very much Tom for the interview. I certainly appreciate you taking the time.
DocTom: Thank you! This has been a very informative chat.  I really look forward to reading your future works.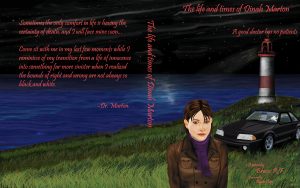 And to our readers — you can see my review of The Life and Times of Dinah Marton here, and purchase it on Amazon here.  Feel free to post comments and contact Mr. Bruce directly at his webpage.  Cheers!