BOOKKUS Authors Page
Here's some other great books published by BOOKKUS Publishing, where the readers decide which book to publish.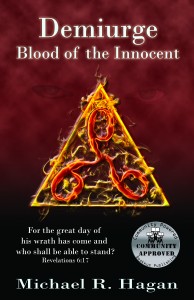 Demiurge, Blood of the Innocent
by Michael R. Hagan
"I was really impressed with the overall plot. The story seriously had the WOW factor there and it kept me guessing right to the end."  Broomer35 "The descriptive nature of the writing makes you feel like you are present in every scene. I would describe it as a book written in HD !!" Oscar
Read the first 3 chapters of Demiurge, Blood of the Innocent. 
Michael Hagan's been interviewed by the Book Nook Diva!  Read the interview at Book Nook Diva's facebook page.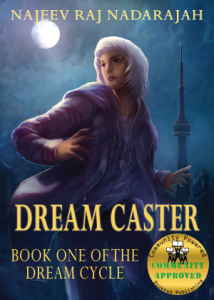 Dream Caster by Najeev Raj Nadarajah
"Brilliant! Was hooked on the first chapter! Am very intrigued to know where weaver is from and got a feeling the mysterious girl knows more than she is letting on! Wonderfully written and really brings you into the world in which those people live I am definitely going to buy this."
"I've got two things to say. Remember the name of the book & remember the name of the author. In another 3 years, the whole world will know his name. That much I can assure everyone.
December 19th
when this book hits Amazon Kindle online, it wouldn't surprise me if Nadarajah shakes the young adult fantasy world the way authors like Christopher Paolini did with the debut of Eragon."  –
Sharmini Jesudas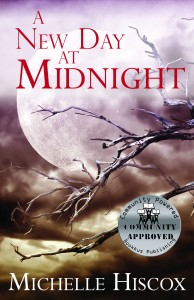 A New Day At Midnight
by Michelle Hiscox.
When Merik Hearne finally lays claim to the woman that betrayed him, she inspires much more than his need for revenge—but is her love worth dying for again?
Condemned to play host to a demon, scarred Romani leader Merik Hearne has amassed a fortune with only one goal in mind—to possess Hannah Worthington, the traitorous beauty that has eluded him for over a decade. With an exchange of coin, everything he has been striving for is within reach but nothing is as he imagined. The tender, sharp-tongued woman he encounters tests the bounds of his convictions and he is torn between the promise of reckoning and longing for a love that once destroyed him.
Exchanged for a purse of gold and informed she is to be a slave, Hannah vows she has not survived a lifetime of loss only to whither under the likes of Merik Hearne. And she will do everything she can to make sure he knows it. Despite his overbearing manner, his fierce scars, and her own determination to escape him, she begins to see that something beautiful might lie beneath…something that belongs only to her. She must discover the angle from which the great lord plays before his dark desires consume them both.
As they struggle to find truth amid pasts marred by sorrow and secrecy, they are unaware that a vengeful apostle orchestrates the rise of a forgotten god—and the end of their chance at a life together.
Visit Michelle Hiscox at www.michellehiscox.com and read her interview on the Book Nook Diva's facebook page.
The Life You Leave Behind
by CoeDee Shaner Burba
All Faye Donehoe wanted was someone to love. At 18, she married her high school sweetheart and fulfilled the only goal she ever bothered to set: leaving her claustrophobic hometown in the sunset for the excitement of Washington, D.C.  Five years later, she's a war widow in love with her employer, Jimmy Quinn.  Older and wealthy, he's also very married to an aloof goddess with secrets of her own.  Though Faye succeeds in capturing Jimmy's attention, she finds happiness comes at a staggering price.
Throw in a nosy grandmother, an eccentric cousin, along with Jimmy's skeletons and it's no wonder Faye's life is spinning out of control.  After a lifetime of poor choices she faces her most difficult one yet: living the "American Dream" or walking away from the life she always wanted.
These great books are available at the BOOKKUS SHOP , Amazon, Kobo, and Barnes and Noble.